Banks write off Rs 1790 Cr owed by 'willful defaulter' Rayapati Sambasiva Rao's owned Transstroy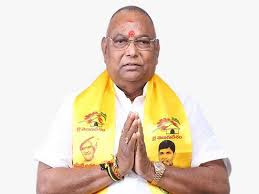 Hyderabad: A loan amount of Rs 1,790 Crore owed by 'Transstroy India Limited', a company owned by former MP and TDP leader, Rayapati Sambasiva Rao, has been written off by the bank, revealed an RTI. However, it is to note that, this does not stop the recovery process of the loan amount.
The Ex-parliamentarian features in the list of top 50 'willful defaulters' whose loans has been written off. Rayapati, owns Transstroy (India) Limited, an engineering & construction company that bagged a multi crore Polavaram Project of Andhra Pradesh , in 2012 having its corporate office located in Begumpet and Kamalapuri colony of Hyderabad .
In an RTI response to prominent activist Saket Gokhale, the Reserve Bank of India , disclosed that, Indian banks have technically written off Rs 68,607 crore due from 50 defaulters. They include diamondaire Mehul Choksi and Mr. Vijay Malaya.
The RTI activist through his RTI, has asked for names of the top 50 defaulters identified by the Indian banking system as on February 2nd 2020. And their respective amount in rupees owed by each of the willful defaulters. To this, the RBI said, "Under the CRILC database, all borrowers who having aggregate fund-based and non-fund based exposure of Rs 5 crore and above. The information on top 50 willful defaulters and their sum of funded amount outstanding & amount technically has been written off as on September 30th 2019.
In response to the loan amounts being written off Finance Minister, took to social platform and said, "Useful to recall the words of RBI' former governor Raghuram Rajan: "A large number of bad loans originated in the period 2006-2008...Too many loans were made to well-connected promoters who have a history of defaulting on their loans...Public sector bankers continued financing promoters even. Those defaulters who do not repay despite having capacity to pay, divert or siphon-off funds, or dispose of secured assets without bank's permission are categorised as wilful defaulters. They are those well connected promoters who benefitted from UPA's 'Phone banking''.
The minister goes on to say that it was the Prime Minister Narendra Modi led government that is pursuing these wilful defaulters.So far, 9967 recovery suits, 3515 FIRs, invoking Fugitive Amendment Act in cases are on now. The total value of attachment & seizures in the cases of Nirav Modi, Mehul Choksi and Vijay Mallya : Rs 18332.7 Crore, said the Minister.
Meanwhile, according to the RTI, a sum of Rs 5,492 crore , owed by Gitanjali Gems Limited has been written off, the highest in the list. So, has the loan amount of Rs 1915 owed by Deccan Chronicle Holdings limited
Not too long ago, Central Bureau of Investigation sleuths conducted searches on the offices of Transstroy India Limited and on the residences of TDP Former MP Rayapati Samba Siva Rao, Sridhar Cherukuri MD of Transstroy and several other accused.
CBI booked a case of cheating and criminal misappropriation against Transstory, Rayapati and others for siphoning off around Rs 3822 crore . The accused obtained bank loan from Canara Bank, Union Bank of India and others. The consortium of banks led by Union Bank has filed the complaint with CBI.
Investigation found that directors of the company cooked up two books. One set of financial books cooked up for the bank purpose are found to be forged. Another set of books are maintained within the company. CBI sources said that the funds were diverted for other purpose than which the loan was taken.
Top 15 willful defaulters and loan amount written off
Gitanjali Gems Limited – Rs 5,492 Cr

REI Agro Limited – Rs 4,314 Cr

Winsome Diamonds and jewellery limited – Rs 4,076 Cr

Rotomac Global private limited – Rs 2,850 Cr

Kudos Chemie LTD- Rs 2,326 Cr

Ruchi Soya Industries Limited – Rs 2,212 Cr

Zoom developers pvt limited – Rs 2,012 Cr

Forever precious jewellery and diamonds private limited – Rs 1,962 Cr

Kingfisher Airlines limited – Rs 1,943 Cr

Deccan Chronicle Private limited –Rs 1,915 Cr

ABG shipyard – Rs 1875 Cr

Transstroy India Limited – Rs 1790 Cr

Surya Vinayak Industries limited – Rs 1,783 Cr

S Kumar Nationwide limited – Rs 1581 Cr

Gili India Limited – Rs 1447 Cr