Hyderabad: According to the Ministry of Home Affairs, after its bifurcation in 2014, Andhra Pradesh state has received central assistance of Rs 14,310 crore under Andhra Pradesh Reorganisation (APR) Act, 2014. Between 2014 and 2019, the Centre provided aid worth Rs 2,500 cr to the Telugu state for 'Capital City Development' and Rs 6,764 cr for Polavaram National Project on irrigation.
As per the information available from the Central ministry, Rs 1,638.34 cr has been released for setting up of various educational institutions in Andhra Pradesh. Since educational institutions and infrastructural projects require a long gestation period, ten years has been allotted to complete the works.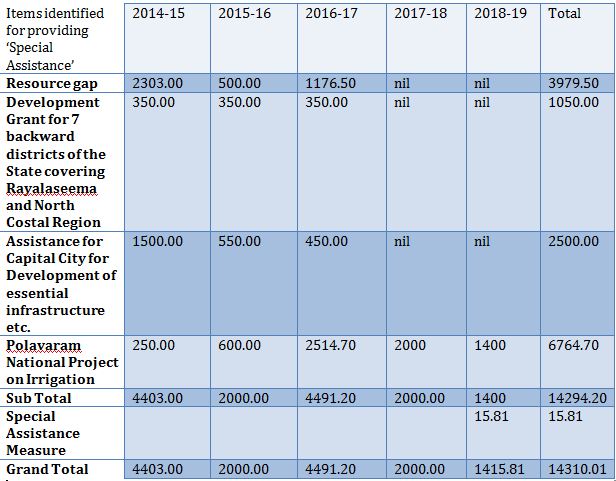 Andhra Pradesh has also received a development grant of Rs 1,050 for seven backward districts in the state covering Rayalaseema and North Coastal Region. Moreover, the Centre released Rs 19,613 cr as Post Devolution Revenue Deficit Grant during 2015-19. It is against the Rs 22 cr recommended by the 14th Finance Commission for the period 2015-20.
The Centre has also approved setting up a new South Coast Railway (SCoR) Zone with its headquarters in Visakhapatnam, under the APR Act. As per the Act, the Steel Authority of India Limited (SAIL) was to examine the feasibility of establishing an integrated steel plant in YSR Kadapa district. However, the project was dropped since an integrated steel plant of the proposed configuration was not found financially viable. It was not the only cancelled the project. The proposal for setting up of a major port at Duggirajupatnam was also not found feasible due to intense competition from nearby ports.
According to the Ministry of Home Affairs, a large number of provisions of the APR Act, 2014, are at various stages of implementation. However, the execution of a particular set of provisions of the Act is not smooth. The implementation would require the resolution of the current issues between Andhra Pradesh and Telangana.