Barahoti situated in Chamoli District of Uttarakhand (UK) saw the first Chinese intrusions in 1954- the other ones being carried out in Aksai Chin Sector & also in some forlorn & desolate corners of erstwhile NEFA with alarming regularity. This was happening while PANCHSHEEL was being signed by Nehru & Zhou. The Indian intelligence was pathetic, to say the least, & it remains only a shade better today, when the Indian Army is facing PLA face to face - having locked their horns in Eastern Ladakh and elsewhere.
Uttar Pradesh, out of which the UK was carved out, had little interest in matters Barahoti - stating that this was a matter to be dealt with only by the Central Government. The same remains the attitude of the present UK state also. Barahoti 'per se' is grazing mountain land, upon which, no territorial or political dissonance or disunion was ever witnessed between India & Tibet. The only wrangling was whether Tibetan Officials could come inside the Indian Territory to collect taxes from their traders who frequented this area. This dates back to 1890.
In the Central Sector, China has laid claims to the following areas:-
(a) Regions of Kaurik & Gyn in Spiti Area, Himachal Pradesh (HP)
(b) Shipki La Pass (HP)
(c) Nilang -Jadhang Area (UK)
(d) Sangchamala & Lapthal Area (UK)
The famous Chinese traveler Hue Tsang had visited some of the above mentioned areas in 7 Century AD & had narrated these areas to be under Indian jurisdiction. Even Atkinson (Himalayan Gazetteer) had mentioned that the Garhwal dynasties ruled these areas right up to the latter half of 18 Century.
With Nepal creating problems for India on its recent border claims (having printed a new map based on figments of imagination); time is not too far when the Dragon in collusion with it may create another headache for India.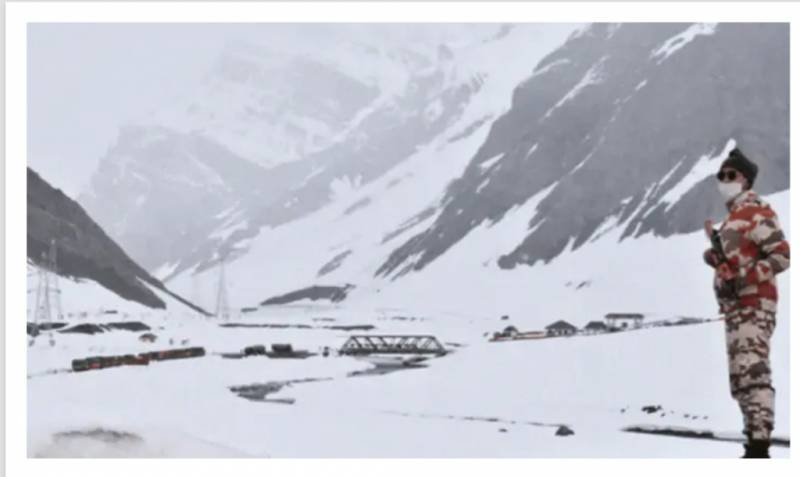 On Indo-Tibetan Border, there are 12 prominent Passes Westwards from Lipu Lekh up to Niti. Today, the Chinese have constructed huge infrastructure on their side with roads leading to passes of tactical significance. Tunjun La Pass overlooks the Barahoti Plain & one can see Chinese vehicles right on the Pass itself. Every summer, the PLA soldiers in full uniform transgress at will with arms & go back while India as a Good Samaritan follows the Protocol signed in 2005 - reiterated in 2013. Indians on the other hand especially ITBP jawans carry out patrolling mostly in civvies & without arms as per protocol.
In 1958, India & China listed Barahoti - an 80 Sq KMs sloping pasture, as a disputed area where neither side would send their troops. In 1962 Sino-Indian War, China did not enter the Middle Sector & focused on Western (Ladakh) & Eastern Sector (Arunachal Pradesh). ITBP jawans later started patrolling the area in a non-combative manner. Amazingly, during prolonged negotiations on resolving the border disputes, the Indian side had unilaterally decided in June 2000 that ITBP jawans would not be carrying arms to three Indian Posts viz Barahoti, Kaurik & Shipki La in Himachal Pradesh (HP).
Searching the pages of history, one does, however, find a hidden reference to this area by IB wherein, they had recommended that if Tibetans are not stopped from establishing their post at Hoti (Barahoti) Plain, they might eventually claim it to be their territory. The Government of Tibet had established a Custom Post out here. India not having insisted & asserted on their own territory, China started claiming several areas south of the watershed- where Barahoti is located. How can a Nation forego part of its territory just because some Netas & Babus sitting in cozy offices in Lutyens City had no knowledge about their own land & did not react to the call of the time!
As in most Himalayan Areas, access is much easier from the Tibetan plateau side. Even today, Chinese helicopters intrude in the Indian air space at will & the PLA troops prevent movement forward of the ITBP patrols with a caution that the area belongs to them. India has only been sending protests! The Chinese troops intentionally leave telltale signs & have even painted boulders & rocks in the Chinese language to stake their claims.
In the absence of a National Strategy Document & sheer apathy of our Policy Planners, India has been suffering on matters of National Security with no lessons learnt from the 1947-48 J&K war till now.
Present confrontations at Depsang Plains, Hot Springs, Gogra, Galwan, Pagong Tso & elsewhere are cases in point. In the past as well, such Chinese intrusions/transgressions/nibbling actions had been taking place but India had one eye closed - akin to an ostrich with its neck buried in the sand! It is pertinent to mention here that in the Western Sector (Aksai Chin), China is in illegal possession of 37,244 Sq KMs of Indian Territory; in the Central Sector (HP & UK) China calls it a 545 Sq KMs of Area of the disputed territory. In the Eastern Sector, in erstwhile NEFA, now Arunachal Pradesh, China claims 90,000 sq KMs of Indian Territory. In addition, Pakistan had illegally ceded & gifted Shaksgham Valley - part of J&K (5300 Sq KMs) -- to China in 1963.
Nepal can be overrun by the Dragon in no time & Nepal knows it too well. Nepal is also handicapped by the fact that a sizeable portion of her population inhabiting the Northern border areas is of Tibetan extraction & religion. Presently, Nepal is under the tremendous influence of China, so much enamored by the Dragon that its relations with India today are at a nadir. China is reported to have illegally occupied about 2000 Sq KMs of Nepalese territory with the entire population of Nepal watching Dragon's expansionist intrusions as hapless & mute spectators! Under these circumstances, the Chinese threat in collusion with, or through Nepal, has become a reality for India.
The Middle Sector as compared with the other two Sectors is woefully short of defense-related infrastructure. Very few lateral roads exist up to the Passes/Posts. To top it up, a mass exodus from the Uttarakhand border areas of Kumaon & Garhwal Regions has made the mountain state extremely vulnerable to two hostile neighbors. It is high time that all Himalayan Border States get together & make a holistic border defence & infrastructure plan under the direction of the Prime Minister.
Quite rightly, Subramanian Swami has advised the Centre to focus on Barahoti stating that China & Nepal could coordinate there. He has also suggested that Defence Minister Rajnath Singh should visit the area soon