Hyderabad: Come Ugadi, people forget social distancing and made beelines to shops in the city.
A century-old 'Monda market' in India's second largest IT hub –Hyderabad saw extraordinary rush during morning.
Located in heart of Secunderabad and few kilometers away from Gandhi Hospital that is treating COVID-19 patients, people thronged the market to stock essentials.
The adjacent Mehdipatnam, Bowenpally and Chilkalguda markets also saw a huge rush of customers. People flocked narrow lanes and by-lanes, trying to stock as much as they can. Since March 23 happens to be Ugadi, New Year according to the Hindu calendar, the rush was overwhelming.
What came as the biggest shock was that 80 percent of shoppers were without masks who paid no heed to social distancing and walked passed each other. It was no less than a mela that offered food for free.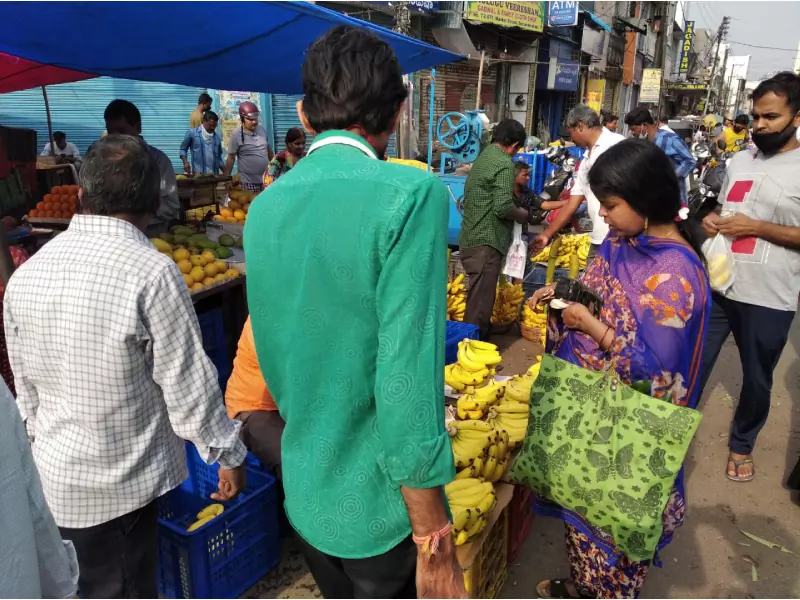 GHMC Zonal commissioner, North Zone, Srinivas Reddy said the rush could be a result of Ugadi.
"The stakeholders are trying their best to maintain restrain on movement. Given the rush, director Agriculture has decided to come up with mobile markets, where vendors will be made to sit at a distance followed by a queue. Markets fall under essential commodities and they cannot be closed", he said.
It is worth to be noted that the first patient who tested positive was from Mahindra-hills –Secunderabad and two more cases were residing within a few kilometers of public places.
"The police are thrashing commuters. We may not get an opportunity to purchase essentials during the restricted hours. This is the only time to step out", said Ramesh Yadhav, a resident of Bible House.
Meat stalls and chicken shops witnessed extraordinary rush with people scrambling to buy as much as they can. . "Poultry industry in Telangana has been hit. They have stopped production and vendors put out their last batch for sale," said Madhusudan Reddy, a vendor
Besides the local bazaars, even the supermarkets witnessed huge rush. The mad rush to purchase essentials during a lockdown without social distancing is likely to cost the health of many.
This comes at the time when Telangana is as on the edge, given the surge in local transmission cases. On March 23, new 'contamination borders' were drawn in Kothagudem district of the state as two cases of the primary contact of a COVID-19 patient were tested positive.