Hyderabad: An earthquake of 4.6 magnitude was recorded on Richter scale has shaken Suryapet district of Telangana, and the tremors were felt so far and wide as in the old city in Hyderabad and as well as parts of Krishna and Guntur districts in Andhra Pradesh. The earthquake has been reported at around 2.37 am on Sunday.
4.4 magnitude #earthquake. 27 km from Jaggayyapeta, Andhra Pradesh, #India https://t.co/8xnsLU65vH

— Earthquake Alerts (@QuakesToday) January 25, 2020
National Geophysical Research Institute (NGRI) Chief Scientist Seismology Dr Sri Nagesh said that the epicentre of the earthquake is located in Velutur village of Suryapet and it was recorded 4.6 on Richter scale.
Sri Nagesh said,"The tremors are felt in Suryapet, Nalgonda districts of Telangana and Krishna, Guntur districts of Andhra Pradesh. We are assessing any damage reported. Officials will study the epicentre of the quake ,"
Following tremors, People rushed out of the houses both in Telangana and Andhra Pradesh districts.
A resident of Hussaini Mohalla of old city Akbar Ali Razvi said,"I live in the second floor in the building. Around 2.30 am I felt tremors in the house. We all ran out after the tremors. All tenants came out and we have been on the roads entire night. All of us woke up from slumber and ran out,"
Tremors are widely felt in Kodad, Huzurnagar, Mellacheruvu, Chintalapalem, Palakidu Matampally mandals. Tremors were felt for around 10 seconds locals said.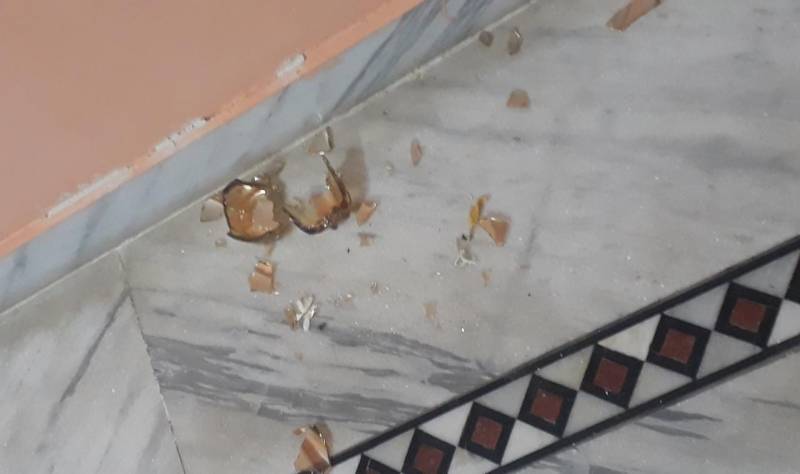 NGRI chief, Sri Nagesh added ,"Our Indian plate has several faults. Earthquake occurred in a fault that exists near Velthur of Suryapet. We haven't named the fault. The epicentre of the quake is on river Krishna," No major damage has been reported. However minor instances of glasses broken were reported in Mellacheruvu mandal.
While Andhra is on earthquake prone area particularly Guntur district, Telangana is relatively on safer area except the banks of river Krishna bordering Andhra. Revenue officials and police department visited the villages in various mandals in Suryapet district and asked locals to calm down.
Earthquake was caught on CCTV camera for about 7 seconds at 2.37 am on Sunday.