Hyderabad: Greater Hyderabad Municipal Corporation (GHMC) imposed Rs 5 lakh fine on IN Corporation on Friday for damaging roads. Reportedly, their heavy tippers were used for construction work at ARK Homes Road, Railway employees Colony in Bollaram.
On Friday, Kukatpally Zonal Commissioner Mamatha Vankayalapati conducted inspections based on a report by their engineering wing. She imposed Rs 5 lakh as fine for damaging roads and endangering public safety.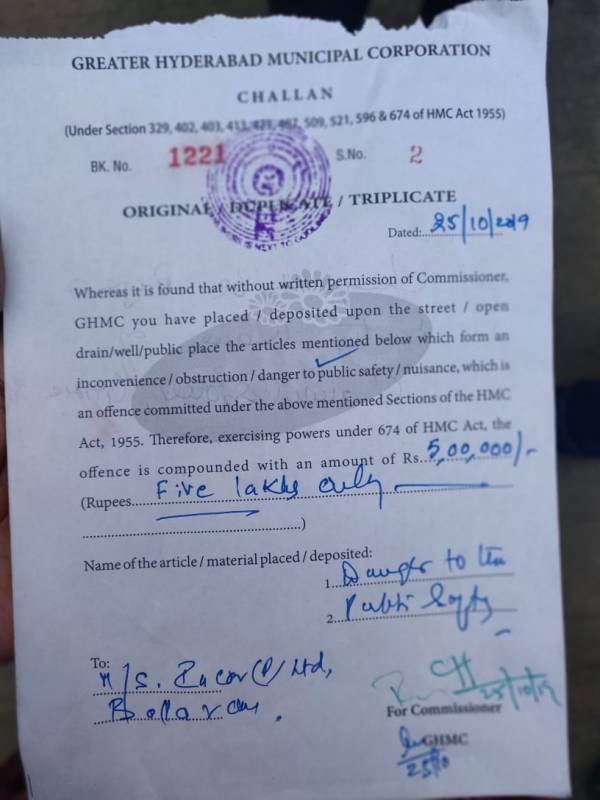 Speaking to NewsMeter, Mamatha says, "We are conducting inspections daily and are imposing hefty fines on violators. Today, we conducted inspections based on a report by our engineering wing. Three days back, we imposed a penalty of Rs 4 lakh against Ruchi Foods in Kukatpally Circle. They were fined for the unhygienic conditions at their sweet processing and food processing godown."
In a recent incident, the Kukatpally Zonal Commissioner imposed Rs 50,000 fine against Ramdev traders at Shapur for the encroachment of main road division 129, Circle 26 in Gajularamaram on October 19, 2019.