Hyderabad's Pariki Cheruvu spits toxic foam after heavy rains, Dharaninagar residents choke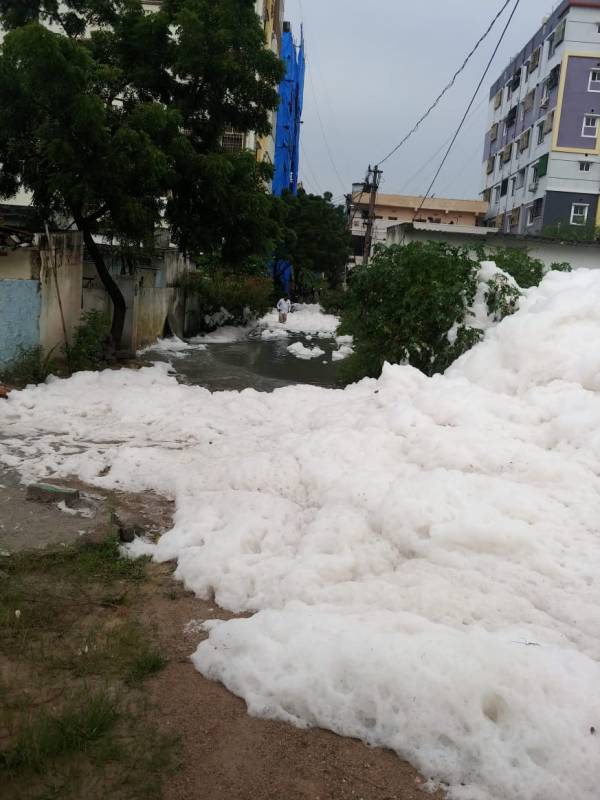 Hyderabad: Hyderabad's Dharaninagar area in Kukatpally was inundated in toxic foam after a spell of heavy rains on Sunday. Residents found it difficult to enter or leave their homes as the housing board's streets were flooded with toxic foam and floodwaters up to a height of 5 feet. Residents alleged that they have raised the issue several times with the authorities of the Telangana State Pollution Control Board (TSPCB) and the Greater Hyderabad Municipal Corporation (GHMC). However, the authorities have never shown any interest to resolve the issue.
Vara Prasad, 43, a resident of Kukatpally said, "Jeedimetla which is close to Dharninagar has a large number of factories that release toxic waste into the Pariki Cheruvu resulting in toxic foam forming in the Pariki Cheruvu. Our colony is very close to the Pariki Cheruvu and we are affected by the stench that is released by the toxic foam. Elders and children in the colony suffer from several health issues such as breathing issues, cough, skin diseases and heart problems. Out complaints to the Pollution Control Board go on deaf years. Officials come, collect samples and say, "This foam is not toxic, but just surf water foam." How can it be possible? Residents in our area have been facing several health issues because of the toxic foam. Its high time the concerned authorities take necessary action."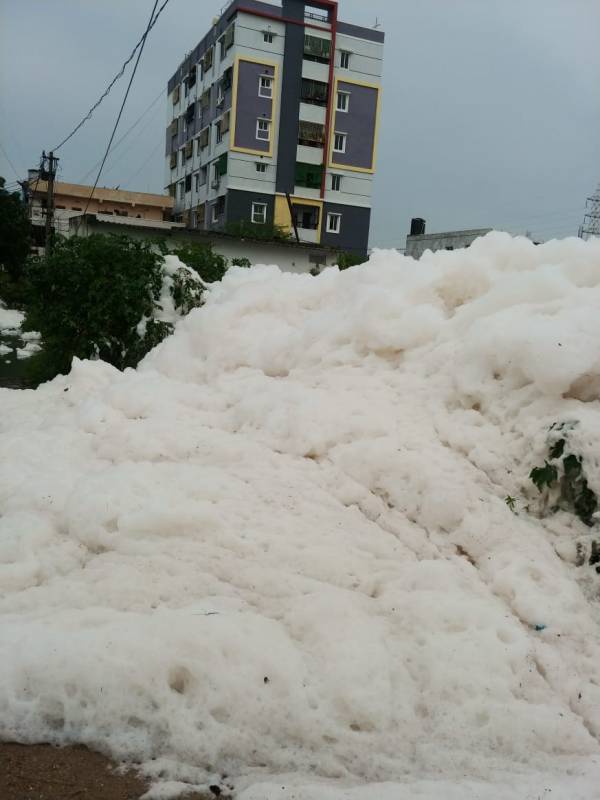 G. Gopal, general secretary- Dharaninagar Residents Welfare Association said, "The problem has been persistent for the last eight years. Toxic foam enters our streets when the Pariki Cheruvu which is just 30 meters away from Dharaninagar colony overflows. This year it has become worse due to the abundant rainfall Hyderabad received. Toxic foam is a huge health issue, but yet the authorities refuse to take any action. Whenever it rains, areas in Hyderabad will only get flooded. But, in our area besides flooding, we have toxic foam mixed with rainwater."
Allwyn area corporator Dodla Venkatesh Goud told Newsmeter, "We have visited Dharaninagar and reported the issue to the concerned MLA. Besides, we have also made several complaints to the PCB authorities. A separate nala was built spending Rs 6 crores to solve this issue. We will reach out to the concerned authorities and make sure that the residents of Dharaninagar do not face the issue anymore."
Mrs Madhulika Chowdary, an environmentalist from Hyderabad said, "People have blocked the inflows and outflows of the Pariki lake. A number of encroachments exists. The lake is degrading day by day. The community has to come together to remove the encroachments around the lake and on the nala. The toxic foam will only affect those who have built their houses in the buffer zone or in the Full Tank Level. We expect a quick action by the state government".