Hyderabad: He was enraged about a cause, struggled hard for it, with divine blessings, he achieved his objective. He proudly sat on the throne and enjoyed the powers vested in him, but they slowly went to his head.
In time, he forgot those who helped him achieve his dream and arrogance crept in. He began to consider himself to be a God.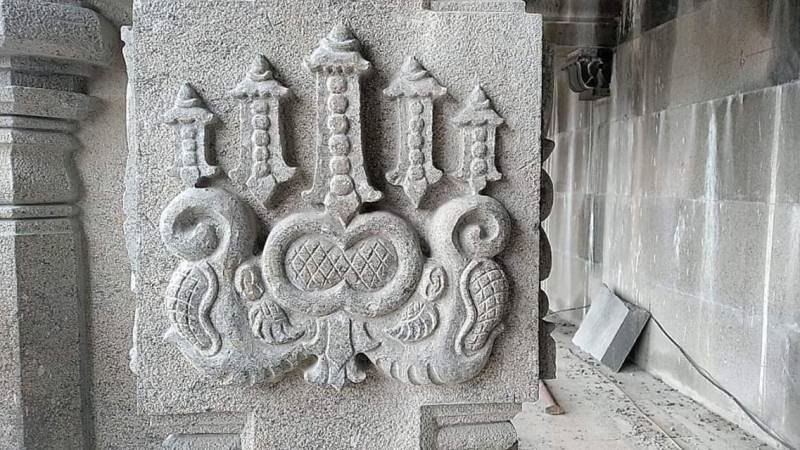 This is the story of Telangana Chief Minister K. Chandrasekhar Rao, also known as KCR. Mr Rao began his fight for a separate Telangana when he saw the injustice meted out to the people. With the support of the BJP and divine blessing, KCR won.
During the Andhra Pradesh – Telangana demerger, Telangana lost the grand Tirumala Tirupati Devasthānam. In his first term, KCR vowed to turn Yadadri Shri Lakshmi Narasimha Swamy Devasthānam into something as grand as Tirupati.
But this week KCR landed himself in a big controversy.
It came to light that the face of Mr Chandrasekhar Rao, his party symbol, Telangana state logo [which has Urdu inscriptions], the logo of Telangana Haritahāram scheme, etc. were etched on the pillars of the Shri Lakshmi Narasimha Swamy Devashtānam on Yadagiri gutta [hill] had temples. He also got the faces of M.K. Gandhi, J.L. Nehru, and Indira Gandhi etched.
Mind you, we aren't talking about a memorial or a museum for politicians. We are talking about a Hindu temple here.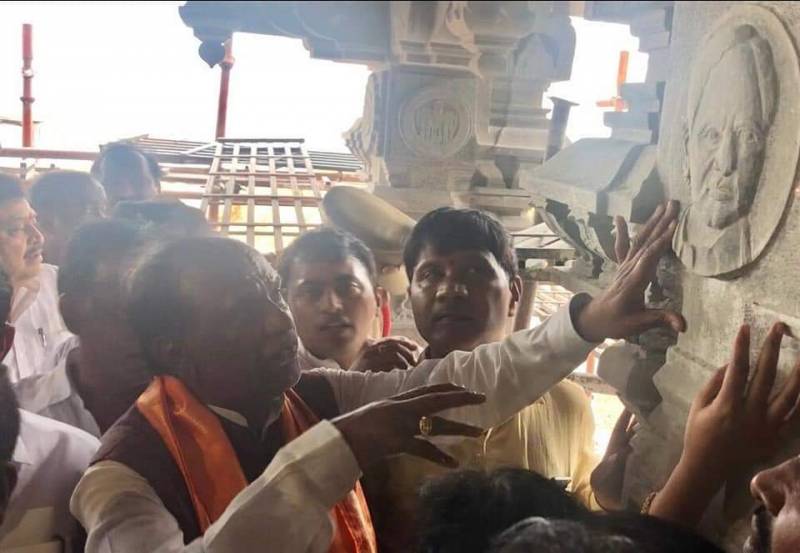 What role do political faces have in places of worship? Why do we have Urdu inscriptions on a pillar? What is an Islamic symbol Al Buraq doing on the pillars of a Hindu temple? What has the Charminar or five fingers of Islam got anything to do with a Hindu temple? KCR's Muslim appeasement is a widely known thing. How insensible could one be, think that it's a great idea to turn a temple into a political playground? Mr Chandrasekhar Rao's Muslim appeasement at the cost of Hindus is condemnable. This reflects KCR's craze for publicity and also his penchant to hurt the sentiments of a majority community for the sake of vote bank politics.
KCR's display of arrogance in a temple premise is unprecedented. Be it the kings of the Vijayanagara empire like Shri Krishnadeva Rāya or Shri Achyutha Rāya, who played a major role in shaping the Tirumala Tirpuati Devasthanam or the Hoysalas or the Kākatiyas who built numerous aesthetic and grand temples, none would have dared do such an act.
If one writes his history, it ceases to be a history. Similarly, if one carves his portrait in the form of a sculpture, it ceases to be a sculpture.
The TRS supremo should understand that history doesn't recognise cheap publicity. When one treats a temple as his party office, what do we call it? Arrogance or degeneracy? Either way, it seems this self-confessed fan of the Nizam is displaying all the traits of his idol, by insulting the sentiments of the Hindu community.
There is no doubt that politically aware people of Telangana are observing his dictatorial rule. After a huge backlash from the public, BJP, and several Hindu organisations, the Telangana state government decided to get rid of the pillars.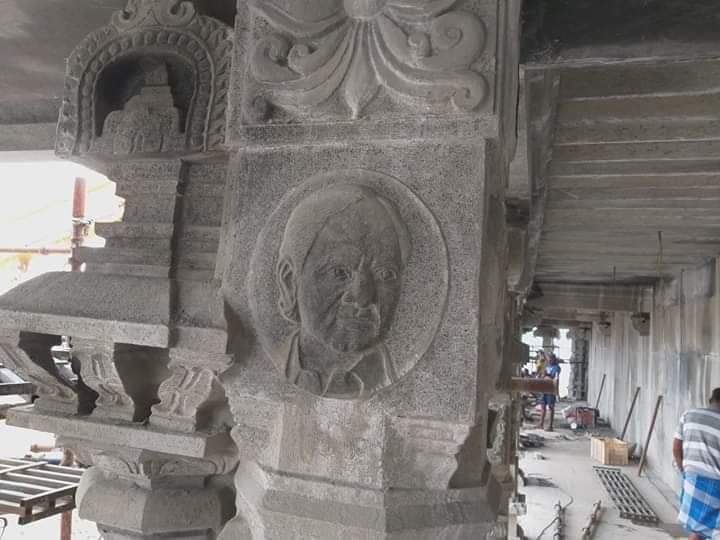 While the TRS or the government officers may not question Mr Chandrasekhar Rao, the people will. They always have. Mr Chandrasekhar Rao shouldn't forget that it is the people who made him the Chief Minister. If he does not check his arrogance, the very same people will rule him out the next time. He should understand it by now, given the fact that his daughter Kavita lost the elections to a BJP candidate in Nizamabad.
In the Krita Yuga, an arrogant Hiranyakashipu messed with a pillar, invited Shri Narasimha Swamy into his life. We all know how it ended. Mr Chandrasekhar Rao cannot denigrate the sannidhānam of the Shri Narasimha Swamy.
It is to be seen if it's just a coincidence or is this an indication of the beginning of Mr Chandrasekhar Rao's downfall?
Only Shri Lakshmi Narasimha Swamy can tell.
(The author is official spokesperson of the Telangana state BJP, economist, BITS-Pilani alumnus and Director, Center for Leadership and Governance, Hyderabad)
Disclaimer: The views expressed here are of author. Need not necessarily reflect that of Newsmeter.