Hyderabad: When the COVID-19 pandemic hit India, life came to a standstill after Prime Minister Narendra Modi, on 23 March, declared a complete lockdown for 21 days. During such difficult times, some people have come forward to help daily wage workers and poor labourers in the state.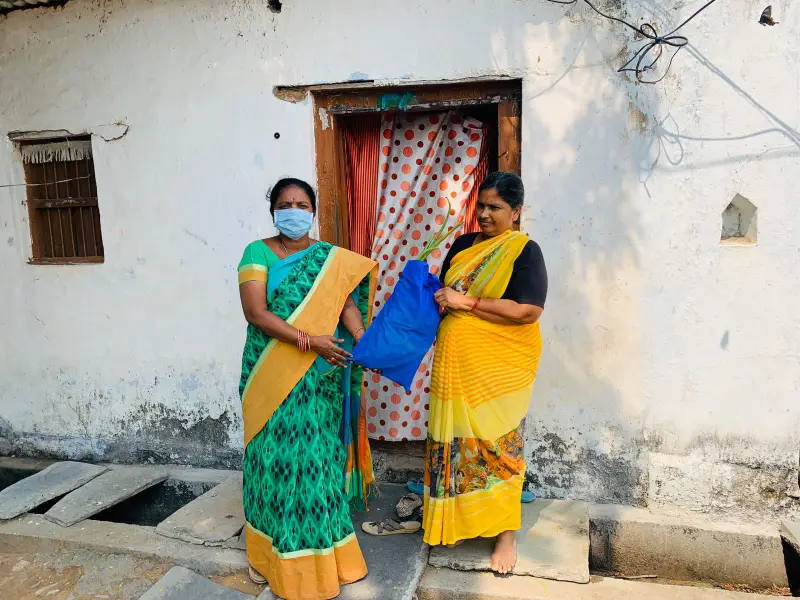 Among the good Samaritans helping the needy during the lockdown is a family from Rajanna Siricilla district. Once a week they donate bags of rice or vegetables to almost 500 families in their locality in Subash Nagar. Lakshmi Narayana Darnam and his wife Aruna started the work and soon their three children Vinay, Srinivas, and Bhaskar joined them. While the couple goes to buy groceries from local vendors, the sons go around the locality on their motorbike donating food. Aruna and her husband also go to the homes of the poor and give them essential items. Vinay told NewsMeter, "We first donated masks and later started donating rice, oil, and lentils. This week we donated bags of vegetables, two kg each to almost 500 families."
Meanwhile, in Warangal, Mohammed Abdullah, a real estate businessman, has turned into a full-time cook. Along with a group of five to six friends, Mr Abdullah daily distributes 200 to 300 food packets to beggars and slum dwellers in the Hanmakonda area who work as domestic help and daily wage labourers. Mr Abdullah said he is not taking any money from them. If anybody comes forward to donate, he asks them to buy groceries which he can use to make food.
"We are donating food in the afternoon and at night. The government is also doing its best but still, it cannot reach everyone. The poor people who don't have any means to travel to the place where the government has set-up its kiosk are mostly left behind. Since I can drive and reach them, I am cooking and donating food," he said.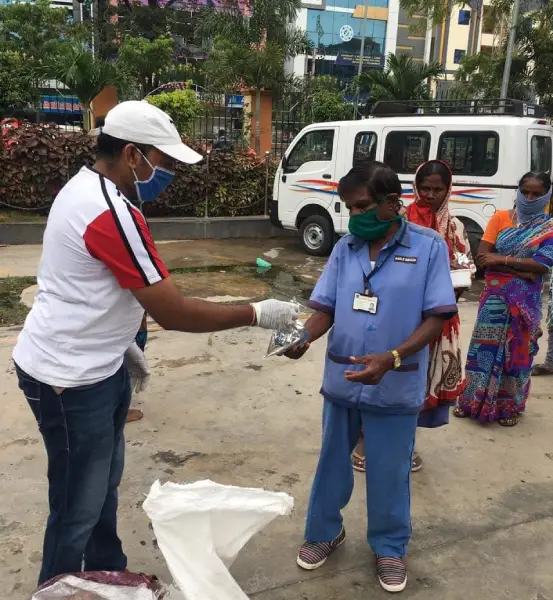 A Karimnagar man has also joined these heroes. Bhavin Bhalodi, who made headlines after he took up the work of cleaning a Karimnagar dam, along with a team of friends has been donating food for the past 11 days. They distribute around 400 packets per day. Apart from that, the group also donates sanitary napkins to women daily wage workers living in slums and construction sites. "We have done this only once in all these days because we were unable to find many women," said Mr Bhavin.
Meanwhile in Hyderabad, many social activists joined hands with the GHMC and police officers to help people during the pandemic. Malleshwar Rao, whose motto is #DontWasteFood, daily donates eggs, vegetables, and curd in the Cyberabad area. Hyderabad's Water Warrior Kalpana Ramesh has also joined hands with the GHMC officials to provide food to 50 distressed families in Gopinagar slum. She and her volunteers also cover other parts of Hyderabad. In the Serringampally area, they donate milk packets to children.
Even Telangana police and Minister of IT KT Rama Rao appreciated these heroes who are supporting the state during crisis situation. Appreciating one of such NGO Youngistaan Foundation the Telangana police thanked them for supporting the police in donating food to the needy.
Even Minister KTR shared a story of a young Sarpanch Azmeera Lakshmi from Gopathanda village who is spraying disinfectant with the sanitation workers.