Hyderabad: The 445 years old Neknampur lake used to be a garbage dump. It was only in 2016 back a group of environmentalists and residents revived the ancient lake into a magnificent water storage facility. However, tough days are yet not over for Neknampur lake. A group of encroachers on Saturday uprooted the Harithaharam plantation at the Neknampur lake land. The plantation comprised of 40 trees that were planted three years back. Environmentalists and locals allege a resort owner to be behind this encroachment.
"The land around this lake is under dispute. A resort owner now claims this land to be his. Yesterday his men brought in JCB and cleared off the plantation here. It was all over in a matter of minutes, and none of us could stop them. I reported the issue to the Irrigation department, GHMC and HMTA. But nobody has replied yet," says Madhulika Choudhary founder of Druvansh, an NGO working to save lakes.
Ms Choudhary continues, "We are fighting for years to protect this lake from the hands of encroachers. Continuous requests were made to mark its buffer zone. Several luxury housing projects are developing around the Neknampur lake and today's incident is latest to the list," adds Ms Choudhary.
Buffer zones are wetlands around lakes that are necessary for the survival of lakes. They also act as a buffer between the lake and the surrounding lands. According to law, 75 metre of the area around the lake is a buffer zone of the lake, and no permanent structure can be constructed within this lake periphery.
"Since there is no boundary and fencing, companies have started making a lot of construction around the lake. Encroachment activities are very vivid here. But still, the irrigation department is not taking the courage to take action and fence the lake. Earlier when this lake was a garbage yard, nobody stayed here. But now it's a freshwater lake and companies want to build luxury villas here," adds Ms Choudhary.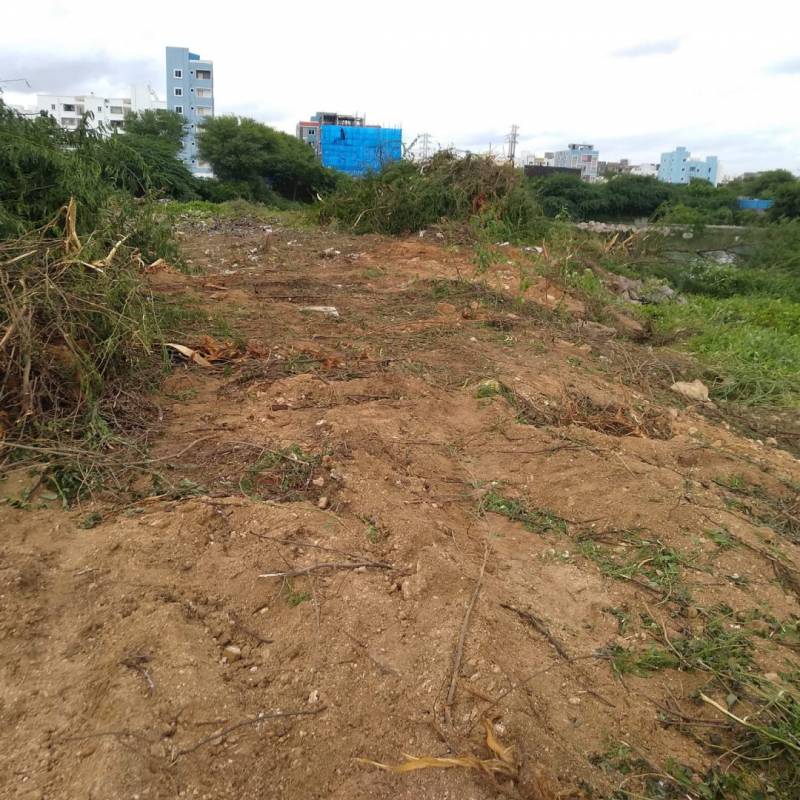 When asked about the recent case of encroachment, Irrigation Department Asst Engineer Mr Viswam Dutta said, "Tomorrow I'll visit the concerned site and take appropriate action".
"The irrigation department has already started beautification and development projects at the china cheruvu side of the lake.
"It is not that the lake is not completely demarcated. A major part of it is already marked. The irrigation department is on a beautification and development projects at the chinna cheruvu side of the lake. Once the project gets over the rest of the lake will also be marked," claimed Mr Viswam
"We continuously do a lot of research and awareness programs on the lake, and we want to make it an educational hub", says Druvansh. Last year the organization had introduced a floating island of 3,500 wetland plants on the Neknampur lake to protect the water body. The lake is a shelter to a broad set of biodiversity.