For the last five days, students of Vattepally madrasa school in Old City have not gone to school. The authorities have declared a holiday for school as there is no proper road for students to commute. Slushy roads filled with potholes and overflowing drainage water has made it a nightmare for students in Vattepally madrasa to reach school. The condition of roads in surrounding areas of Vattepally is no better. Overflowing drains and water stagnation in potholes has been causing great distress to people residing in the area.
"Close to 70 students study in our Madrasa. For students who come walking, it is a risky task to walk through slushy roads. Even vehicles hardly manage to pass through this road.", says Shoed Khan, a teacher at Vattepally Madrasa.
The Vattepally road was dug up almost one and a half year back for laying of drinking water pipelines. "The Rs 3.5 lakh of work was completed before 18 months, but they have not re-laid the road yet. Because the road is full of potholes, water stagnates, making the lives of families in this locality miserable. There are almost 15-20 houses throughout this road.", adds Shoed
"Damaged road, overflowing drain, and water stagnation is the major issues in Vattepally. Since the last one year we complained to counsellor several times, but no action has been taken. We are truly disappointed with the negligence. We have also addressed the issue to GHMC over Twitter", says Yusuf Ali, a resident of Vattepally.
The situation is of course, no better in other parts of the city. Even though monsoon was not so active this year, deep potholes and water stagnation have made driving in the city a back-breaking exercise.
Many roads in the city were dug up for the laying of drinking water pipelines and underground cables. As authorities leave these roads with simple patchworks, over a period their surface start eroding, leaving the roads in a poor state.
The road from Gandhi hospital until RTC crossroad and Ameerpet to Balnagar are a few of the badly hit roads in the heart of the city.
Last month GHMC and Hyderabad Metro Rail authorities had inspected the damaged roads and rehabilitation works were carried out at a few locations using Rs 50cr sanctioned for the purpose. However, the plight of motorists continues.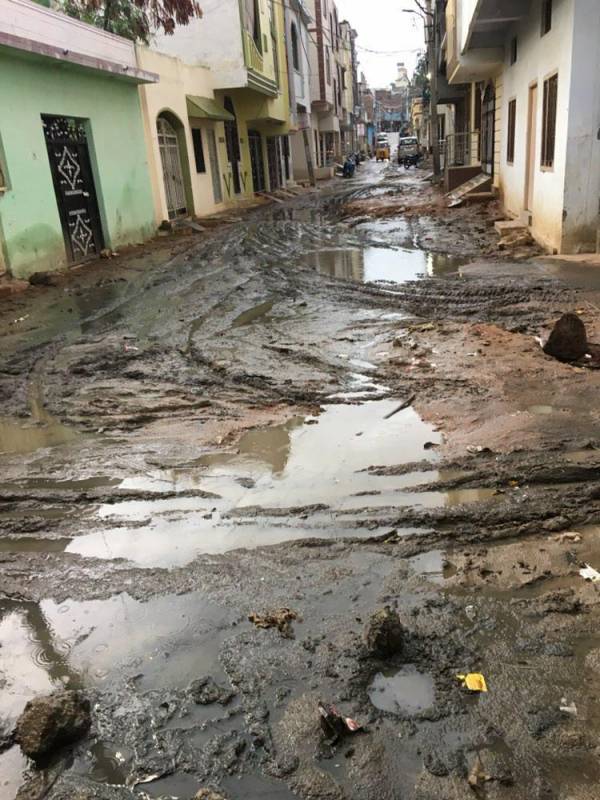 "Every year GHMC is busy putting bitumen tar to fill potholes. This patchwork comes unstuck the next day", says Kiran who commutes between Ameerpet and Krishnanagar every day. "The stagnant water from drainage on road edges and loose grave from potholes only add to our plight", Kiran continues. Driving on these roads every day is a nightmare, and two-wheeler riders are the worst affected, he adds.
Similar is the condition of roads between Balnagar and Boinpally, Jubilee bus stand and Lothkunda, and Tarnaka and ECIL Alwal. The roads between Balnagar to Y Junction and Ameerpet to Krishnanagar too are deeply damaged.