Hyderabad: Telangana Revenue Department continued to achieve a distinction of becoming the most corrupt wing in the state. The Anti-Corruption Bureau (ACB) has registered 54 bribe and disproportionate assets cases against Revenue officials in 2019 as against 37 claims in 2018. Municipal Administration and Urban Development officials figure second in ACB's radar with 25 cases against their corrupt officers in 2019 against 15 in 2018.
Cases against Tahsildars and Village Revenue Officers (VROs) have gone up in 2019 when compared to 2018. ACB officials note that the Revenue Department is always under their radar as both urban and rural citizens visit the offices in connection to their papers.
According to the anti-corruption sleuths, corrupt officers usually demand a bribe for entering land details online and for issuing pattadar passbooks. Some revenue officials demand bribes to hand over original proceedings of agriculture land mutation, some for getting mutation done, and a few others to issue land conversion certificate.
The employees were found to be collecting bribes from Rs 2,000 to Rs 8 lakh, depending on the necessity of work and status of requestors thronging the office. Threats of stalled work and pending demands persist if anyone expressed an inability to pay the bribe. Left with no other option, most would pay the bribe to get their work done, ACB officials noted.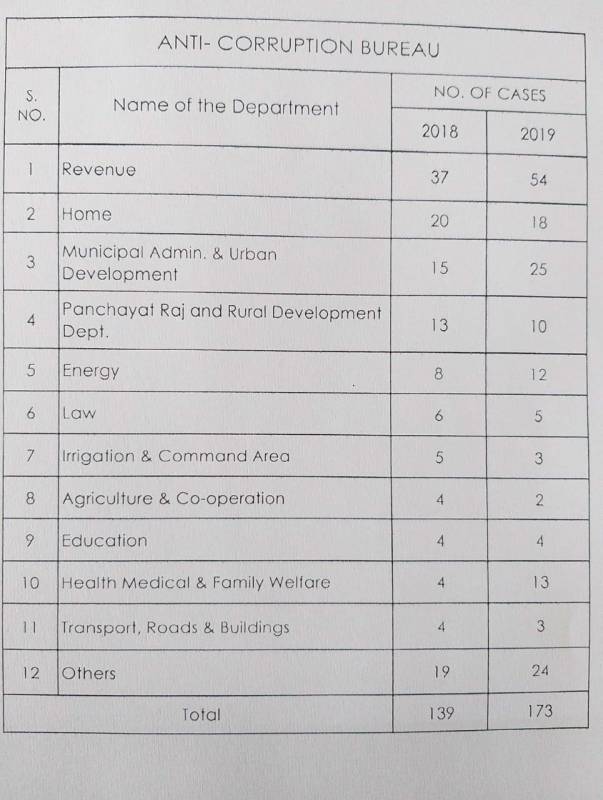 Telangana Tahsildars Association's Founder-President V Lachi Reddy said that the revenue staff deals with 90 per cent of works related to people, mostly farmers in villages and cities. "The entire department cannot be blamed when a few officials commit a mistake," he said, underscoring the need for introducing more steps to streamline the system and curb corruption.