Road construction at Huda Enclave in Jubilee Hills continue despite HC stay order, allege residents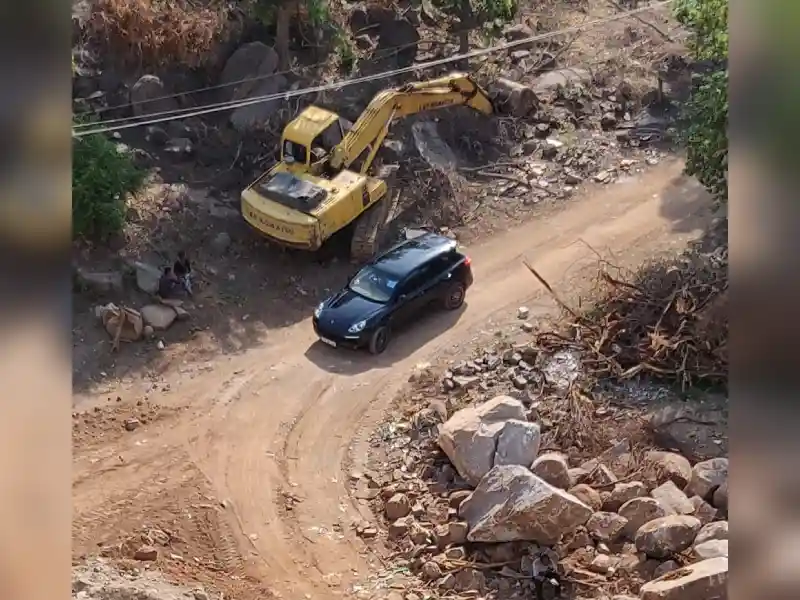 Hyderabad: Residents of Huda enclave in Hyderabad's Jubilee Hills alleged that authorities have resumed road construction work at the enclave despite a stay order from the Telangana High Court.
On 27 April, the residents of the enclave had discovered that land designated for a park was being used for road extension work. They tried different means to stop the work and finally approached the court when they received no response from the contractors.
On 11 May Justice Challa Kondana Ram extended the stay order, issued on 8 May, stating that the road construction was illegal as per the current masterplan. He asked the municipal body to produce before the court a revised masterplan.
However, even after this, the work has been going on, said the treasurer of HUDA enclave residents' welfare association. He told Newsmeter, "We had complained to the police after receiving the stay order. However, the cops said they can take action only if a court statement states that the contractors have violated the court order. We are planning to approach the court again and are collecting evidence to show that the road work is still going on. They are continuing their work on the land allotted for a park and have demolished it. In fact, the work progressed 10 times faster, and more vehicles were at the site after the court order."
Another resident, Nabeel Qadri, whose house is close to the said land, said, "My house is 50 meters from the spot. They blast dynamites and I was scared that my walls would be demolished. Moreover, they cut a big tree beside my house. We are not against the road construction. We were promised a park but now the GHMC is laying road there which is illegal. So, we are fighting."
A GHMC official from the town planning department, meanwhile, said, "We haven't encroached on any land. That is actually government land. We immediately stopped the work when higher officials informed us that the residents have taken the case to the court. We will proceed as per the court's judgment."