Hyderabad: There have been reports of doctors and journalists being beaten up by the police for doing their duty. A man who went to refill a cooking gas cylinder to feed his children was also beaten up. But how did the cops allow a TikToker to violate lockdown orders and sanitise a police station without permission from authorities?
Meenal Meenu, who has over 4.2 million followers, posted a video on TikTok on the occasion of her birthday. In the video, she can be seen disinfecting the Malkajgiri police station and the roads nearby while "Hey Watan" from the movie Raazi plays in the background. "Hey guys, this is Meenal Meenu. Today is my birthday. So, I've decided to sanitise my area," she can be heard saying in the video.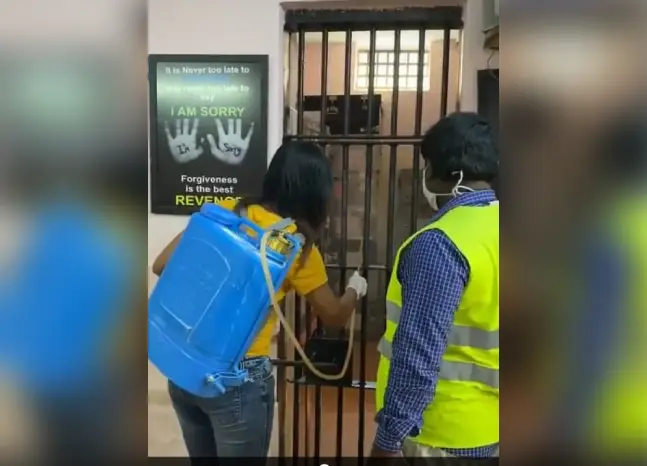 While her followers hailed her as a hero, several netizens are asking if she was given permission to step out and disinfect the station when there is a disaster management team conducting sanitisation drive to protect the people.
Meenus's mother, TRS Deena, who is a politician, took to Twitter to talk about the viral video and tagged KTR in her tweet. "Sir my daughter is tiktoker 4.2m followers highest in our state today her birthday (sic)," she wrote. The tweet drew flak for the "publicity gimmick" and for not letting sanitation workers do their job.
One of the comments on the tweet read, "This is clear violation of lockdown. Happy birthday. May god bless you with wisdom."
However a police officer informed the lady sought help from GHMC workers for equipment, but had no permission from the local police. 'It was her birthday and that she aimed at doing something for the society. She went around with the workers sanitising the place. She came to the police station after santising the area nearby."
According to police officer, she did not have permission from the police to step outside.
After receiving backlash, Meenu took down the video and her mother, too, deleted the tweet.