Srinagar: Journalists on Tuesday staged a unique protest against the internet gag that has severely hampered their professional work in Kashmir.
For the last 100 days, Kashmir has been cut off from the virtual world as authorities imposed an internet blackout. After the abrogation of Article 370 and division of the state into two union territories on August 5, Jammu and Kashmir government snapped mobile and broadband internet services across Kashmir.
From journalists to students to job aspirants, everyone has been hit by the internet blackout. Though landlines and postpaid mobile phones have been restored, there are still lakhs of poor prepaid subscribers who are unable to reach out to their dear ones.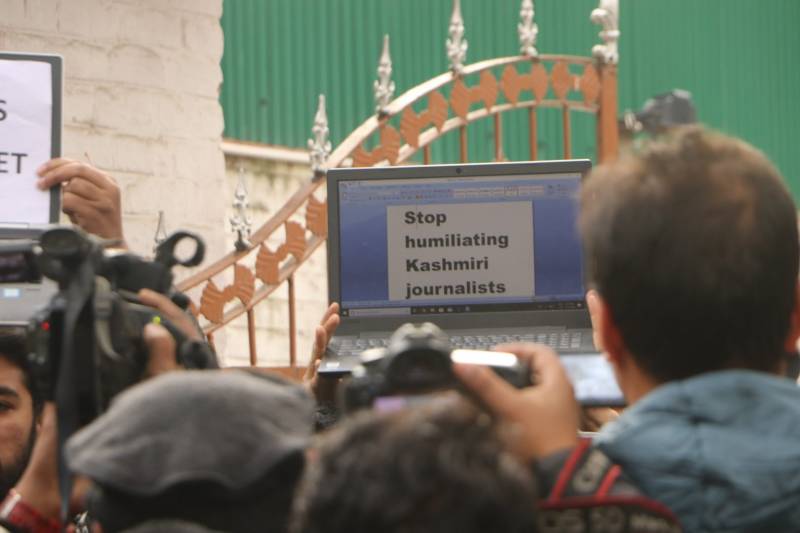 Jammu and Kashmir government has set up a Media Center to facilitate journalists to send their stories to their organisations. Still, given the huge rush, it is not able to cater to everyone. A massive queue of journalists is always seen at the facility waiting for their turn to use the internet to send copies.
Despite petitioning government umpteen times, internet to journalists and newspaper offices have not been restored. On Tuesday, journalists said that they found silent protest is the only means to wake up government to restore internet.
Carrying placards reading "100 days no internet" and "Stop insulting journalists" reporters from different organisations lifted their laptops to bring home the point that they have been suffering in silence since August 5.
"Internet service is a fundamental right everywhere in the world. We are not demanding freebies. It is a paid service — a fundamental service. We want restoration of internet so that our work is not affected," said Parvaiz Bukhari, a highly respected journalist in Kashmir.
It is the second time in 100 days that journalists have hit the streets and lodged a protest against the internet gag. Earlier, journalists under the banner of Kashmir Press Club had staged a silent in to protest against the internet blackout.
(Picture credits: Kamran Yousuf)