Hyderabad: As many as 15 people died in a week, from September 28 to October 4, in road mishaps in Cyberabad police station limits. According to a weekly round-up of road accidents by Cyberabad traffic police, it has been observed that 84 road accidents occurred in just seven days which claimed the life of 15 people.
Overspeeding was found to be the major reason for a majority of the accidents followed by drunken driving, according to the Cyberabad weekly round-up report of road accidents.
Overspeeding led to 30 accidents, drunken driving to 22 accidents, imperfect driving to 15 accidents, not maintaining ample distance from the vehicles in front led to 11 accidents, rash driving led to 10 accidents, driving in drowsiness to 5 accidents, triple riding led to 3 accidents, driving in the wrong direction and improper over-taking to two accidents. Driving in unhealthy conditions, dangerous parking on the carriageway, abrupt lane change, overloading, jaywalking and animal straying led to one accident each.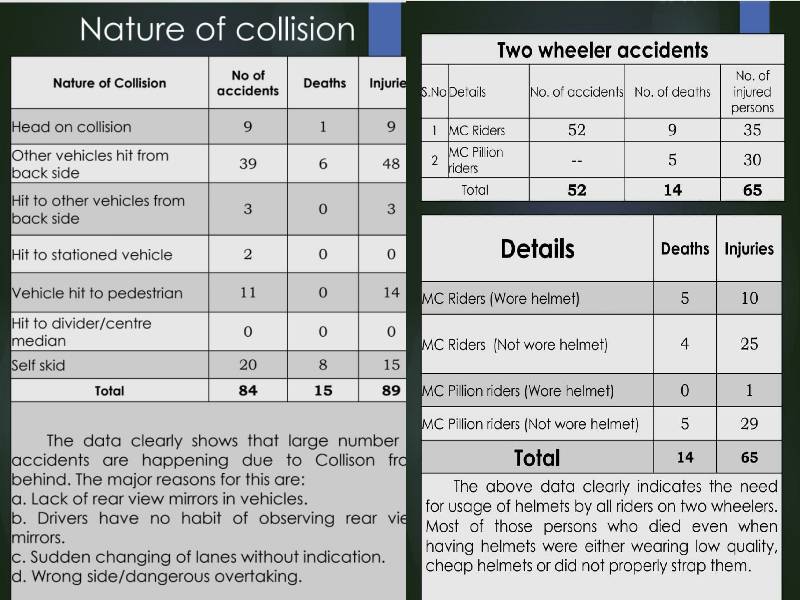 In the 84 road accidents, the victims were either two-wheeler riders or driving their cars. According to the Cyberabad traffic police, self accidents of bikers and bikes-to-cars made up the highest number of accidents. It was also found that bikers were involved in the majority of the accidents. Car drivers and pedestrians also formed a major category of victims.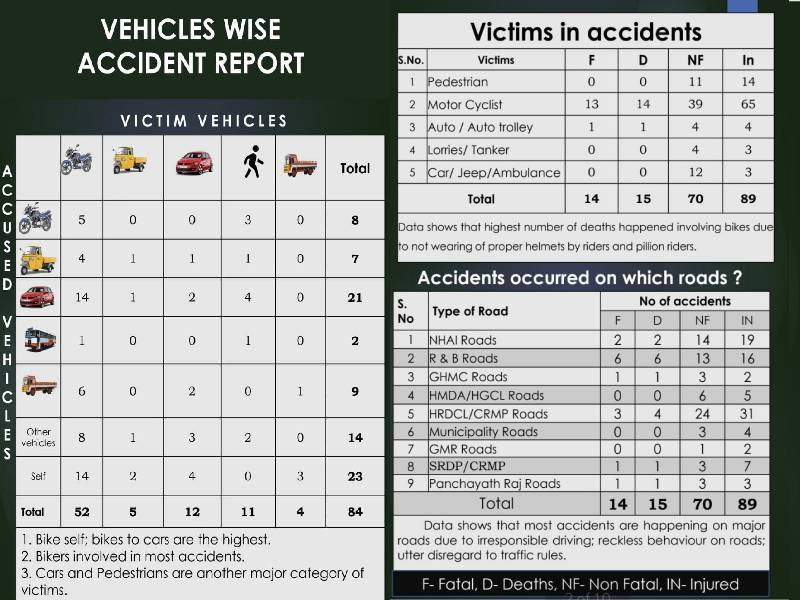 The weekly data report showed that the highest number of deaths involving bikes happened due to not wearing proper helmets by riders and pillion riders. Over 14 motorists died due to fatal accidents while 39 motorists fell victims to non-fatal accidents.
One auto driver met with a fatal accident and 4 others met with non- fatal accidents.
Over 14 pedestrians, who met with non- fatal accidents, were injured. Over 12 cars, jeeps and ambulance drivers met with non-fatal accidents while three of them were injured. Over 4 lorry/tanker drivers met with non- fatal accidents and 3 of them were injured.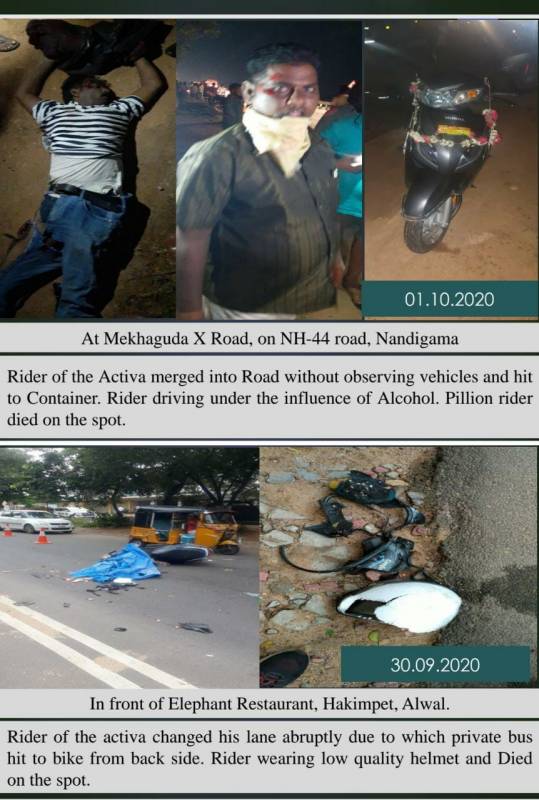 The data further showed that a majority of the accidents were happening on major roads due to irresponsible driving, reckless behaviour on roads and utter disregard to traffic rules.
Two fatal accidents and 14 non-fatal accidents occurred on NHAI roads in which 19 were injured. In six fatal accidents, six persons died while in 13 non-fatal accidents, 16 were injured on the R&B roads. On the GHMC roads, one person died in a fatal accident, two persons were injured in 3 non-fatal accidents.
On the HMDA/HGCL roads, five persons were injured in six non-fatal accidents.
On the HRDCL/CRMP roads, four persons died in three fatal accidents and 31 were injured in 24 non-fatal accidents. Four persons were injured in three non-fatal accidents on municipality roads. On GMR Road, two were injured in a non-fatal accident. One person died in a fatal accident and three persons were injured in three non-fatal accidents on panchayat raj roads.
Cyberabad Traffic Police observed that a large number of accidents occurred due to collision from behind. Major reasons for the collision were due to lack of rearview mirrors on vehicles, drivers have no habit of observing rearview mirrors, sudden changing of lanes without indication and wrong side driving.