Hyderabad: On September 14, a 19-year-old Dalit woman was gang-raped in the agricultural fields in Hathras district of Uttar Pradesh. Her tongue was mutilated, spine broken and was left profusely bleeding. She succumbed to her wounds two weeks after battling for life in the Delhi hospital. This incident has sparked national outrage with people equating the incident with the Nirbhya case.
According to data collated by Violence Lab, the research branch of The Polis Project, India has reported 154 gang-rape cases, between January and September 2020. It is pertinent to mention that during lockdown one and two, the number of gang-rapes was less compared to unlock.
In March, April, May, and June when India imposed lockdown in different phases, the number of incidents reported was 9, 8, 13 and 12 respectively. While in July, August and September when unlock season began, the incidents were 19, 34 and 30 respectively.
The victims are in the age group of 8 and 40 years and they include married, spinsters, mentally unsound, transgenders and differently abled. In February, a 9-year-old (youngest victim) was brutally raped by three people in Karimnagar town of Telangana. While a dalit women by 4 in Ramachandrapuram of East Godavari , Andhra Pradesh.
Rajasthan has bagged a dubious title for having reported in the highest rape cases in 2019, according to the National Crime Record Bureau. In September, days before the Hathras incident, two sisters of age 13 and 15 respectively were gang-raped in Kota. On the same day another incident 14 year-old was raped by 2 in Bharatpur.
In revelation of sorts, Khunti district of Jharkhand, reported 5 gang-rape in nine months, the highest from any district. On February 4, a minor was gang-raped by 10 men in Khunti town and another minor was raped by 12 men in Chota Khantanga.
The highest number of cases were reported from Uttar Pradesh (21) followed by Rajasthan (17) Jharkhand (15) Madhya Pradesh (10) and Maharastra (9). Among the south Indian states, Tamil Nadu reported 12 rapes followed by Andhra Pradesh and Telangana seven each and Karnataka and Kerala four each.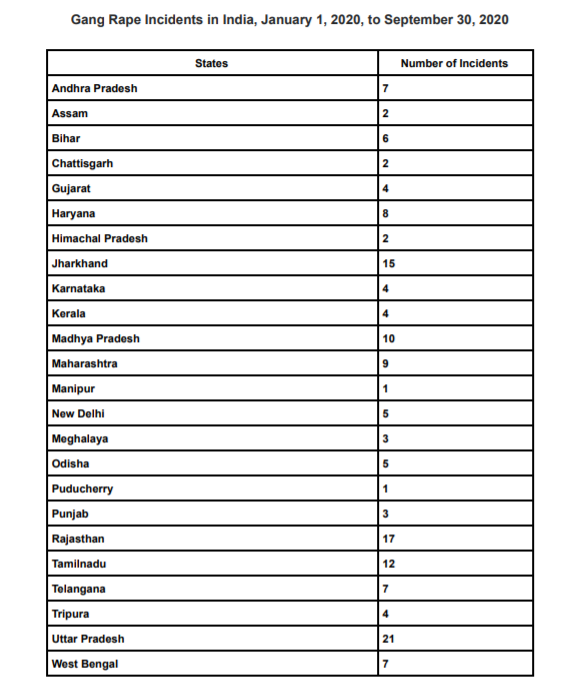 "We have collected gang-rape data as part of a larger data collection project. We use a combination of text analysis tools and human coding to find cases from English language newspapers and enter them into the data file, which we then geocode", said Vasundhara Sirnate, Director of Research- The Polis Project Inc.
Srinate said it takes a lot of time and effort to work on this project. "We are capturing other categories of violence as well so it keeps us very busy. The gang-rape data is a small part of what the actual number of such cases will be for 2020. We can only capture those cases which are publicly reported" she said.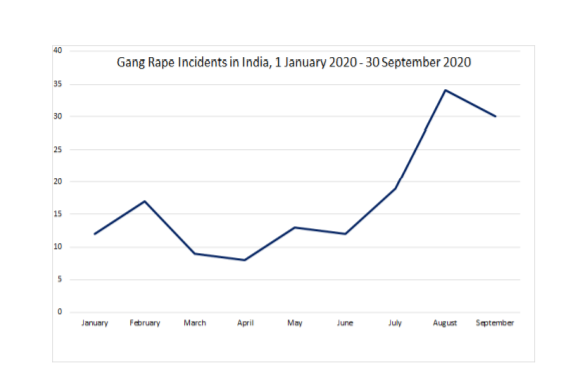 The "Reported Gang Rapes in India, 2020" dataset has been compiled for Violence Lab, The Polis Project by Vasundhara Sirnate and Sajneet Mangat. It includes data compiled from news reports and does not purport to represent the exact number of gang-rape incidents that occurred in India.