Hyderabad: The latest health bulletin released by the Telangana state government shows that 168 families have been tested Covid-19 positive in Hyderabad alone. Bringing out a district-wise categorisation of the number of families affected, the bulletin showed that Rangareddy district comes second with 59 families infected by the novel coronavirus, while Medchal-Malkajgiri has 26 families. Nizamabad and Warangal Urban reported 30 and 26 patients respectively.
The spike in the number of Covid-19 cases in Rangareddy is attributed to 25 new persons testing positive for the virus in a residential area in Madannapet. According to the GHMC, six people, among the 25, who tested positive for Covid-19 are members of the same family in RR Meadows Apartment. A family in the residential area had allegedly held a birthday party flouting social distancing norms, ultimately leading to 15 residential units in the area being declared as containment zones. The presence of gated communities in the district, which witnessed a rise in foreign returnees amid the lockdown is also cited as one of the reasons for the rise in cases.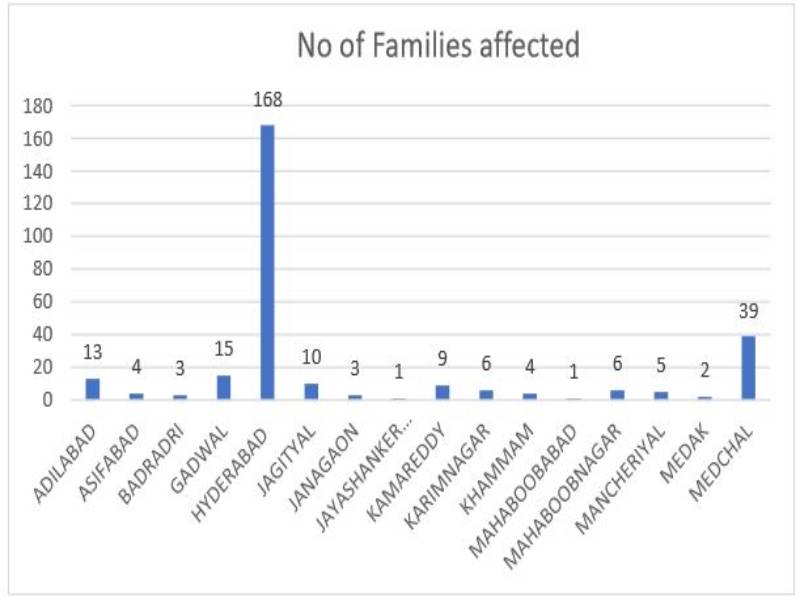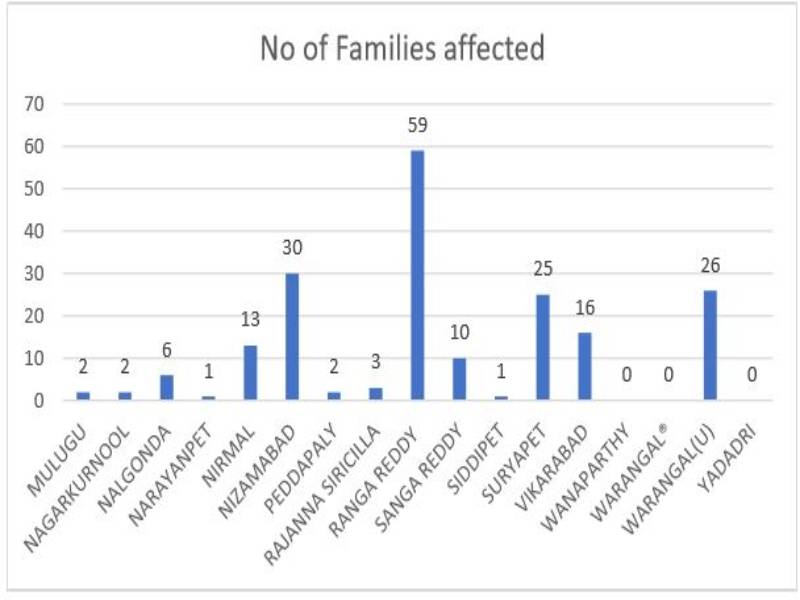 Hyderabad continues to be the district reporting the most number of cases, with 168 families testing positive. According to Chief Minister K. Chandrasekhara Rao, many of the active cases in Hyderabad are limited to four zones: L.B Nagar, Charminar, Malakpet and Karwan, as of May 15.
Residential areas such as Jiyaguda, Goshamahal, Mangalhat have come under the scanner for the sudden spike in the number of cases since the last few days. In Jiyaguda, a retired government employee's death due to Covid-19 rang alarm bells, while in Goshamahal, a porter who sold breakfast to nearby areas tested positive. Similarly, in Asifnagar, a 60-year-old auto-driver has allegedly infected 18 others in the area.
Meanwhile, Telangana crossed the 1,500 mark on May 16, with addition of 55 fresh cases of
Covid-19. Out of this, eight people are migrants who have come to the state, while GHMC area accounts for 44 of the new cases.
The number of active Covid-19 cases stands at 504, while 34 deaths were reported due to
Covid-19.