Chennai: Tragedy struck the filmmakers of 'Indian 2' when a crane mounted with heavy-duty light came crashing down during a shooting killing three people and injuring nine others at Poonamallee on Wednesday night.
The deceased were identified as Krishna, assistant director, Chandran, art assistant and Madhu, Production, assistant. Nine other persons were also injured in the accident. The injured have been admitted to a private hospital at Poonamallee.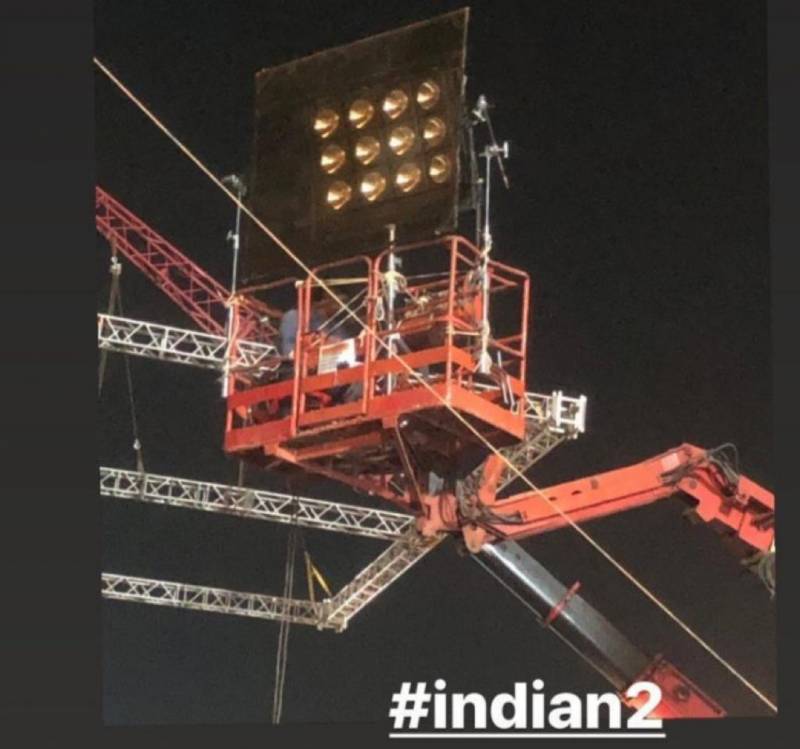 The incident occurred when workers were busy putting up a set for a scene. A heavy-duty light mounted on the crane came crashing down killing three people and injuring nine others..
Police said three bodies were sent to the Government General Hospital for post-mortem. Fire Services personnel rushed to the accident site to launch rescue operation. Nazarathpet police have registered a case. Police have put the investigation on the fast-track to find out the cause of the accident.
There were rumours that director Shankar was also injured. However, sources confirmed that he is doing fine. Lyca Productions, which is bankrolling the film, have released a statement about the accident on Twitter.
Kamal Haasan, who was present at the shooting site when the accident occurred, escaped unhurt. The actor immediately joined the rescuers and evacuated the injured to a private hospital.
Later he took to Twitter expressing his condolences to the bereaved families."Today's accident is the most horrific I have seen in my film career. I have lost three colleagues but my pain pales in comparison to the grief of those who have lost their loved ones. My deepest sympathies to them," he tweeted
எத்தனையோ விபத்துக்களை சந்தித்து, கடந்திருந்தாலும் இன்றைய விபத்து மிகக் கொடூரமானது. மூன்று சகாக்களை இழந்து நிற்கிறேன்.எனது வலியை விட
அவர்களை இழந்த குடும்பத்தினரின் துயரம் பன்மடங்கு இருக்கும். அவர்களில் ஒருவனாக அவர்களின் துயரத்தில் பங்கேற்கிறேன்.அவர்களுக்கு என் ஆழ்ந்த அனுதாபங்கள்

— Kamal Haasan (@ikamalhaasan) February 19, 2020
'Indian 2' was officially launched a year ago. After much delay, the shooting resumed recently. Kajal Aggarwal, Rakul Preet, Siddharth, Priya Bhavani Shankar and Delhi Ganesh are playing crucial roles in this film. According to reports, the shooting will be wrapped up in a couple of months. The film is expected to be released early next year.