Hyderabad: The 44-year-old Sudarshan 70MM & 35MM theatre, one of the oldest in Hyderabad, was booked by Legal Metrology on Friday. Based on a complaint, the District Inspector for Legal Metrology Hyderabad conducted inspections at Sudarshan theatres at RTC X Roads on Wednesday. Following the raids, they registered a case against the theatre under violation of Packaged Commodity (PC) act 2009.
Consumer activist Srikhande Umesh Kumar filed the complaint. He alleged that the theatre is selling packaged food items without mentioning the mandatory declarations on the packet. Legal Metrology (Packaged Commodities) Act 2011 mentions, among other things, how and what declarations are to be made on a packaged commodity meant for sale.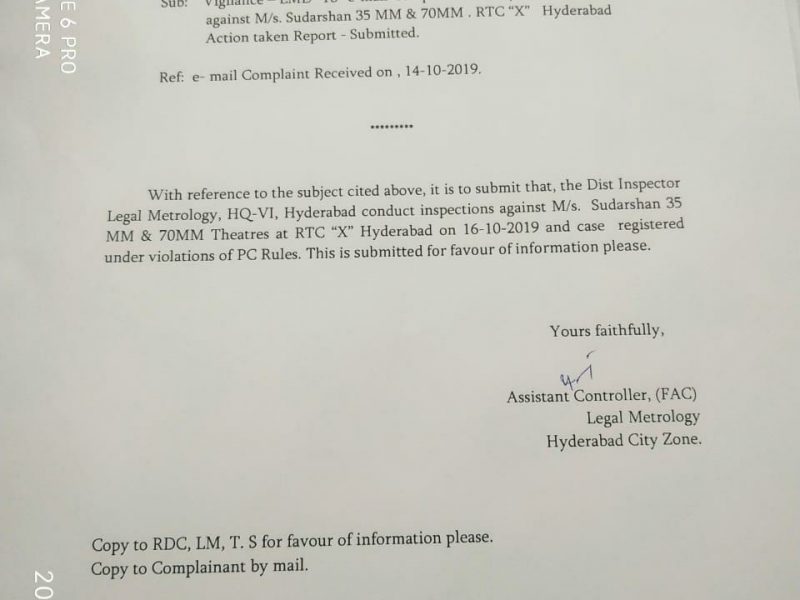 Umesh Kumar, founder of Know Your Rights, told NewsMeter that a lack of mandatory details on the packaged commodity poses a threat to patrons. "How can consumers complain about the product if contact information is missing? As it was evident that the trader is violating Legal Metrology rules, the department should take stringent action against the establishment in the interest of consumers. The department should also impose a hefty penalty," he added.
Hyderabad: The 44-year-old Sudarshan 70MM & 35MM theatre, one of the oldest in Hyderabad, was booked by Legal Metrology... Read More 👇https://t.co/WhHMcJv28s…/#sudarshantheatre #Hyderabad #cinema #theatre

— NewsMeter (@NewsMeter_In) October 18, 2019
According to the Legal Metrology Act, all pre-packaged commodities should have mandatory declarations as follows:
Complete name and address of manufacturer/ importer

Common and generic name of the commodity.

Net quantity of the commodity

Month and year of manufacturing/packing/import.

Maximum Retail Price (inclusive of taxes).

Customer care/helpline number/e-mail address