Hyderabad: "My daughter, I should have given you an iron chatram (cage) instead of diaper", read Vijaya Bandaru from her poem which is soon to enter a collection of resistance poems on child abuse.
Ms Vijaya was one among the 160 Telugu women poets who had gathered to convey their anguish and suggest possible ways to sensitize people on child sexual abuse.
"I have been teaching child rights, but forgot to teach adults their responsibility," read a line from another poem of resistance.
Cases of child rape in Hyderabad are on the rise. Statistics show that since the enactment of POSCO Act in 2012, there are 7000 unresolved child rape cases in the Telangana state. Meanwhile, when the act of rape lasts for 5- 30 minutes, the child has to carry that trauma for the rest of its life.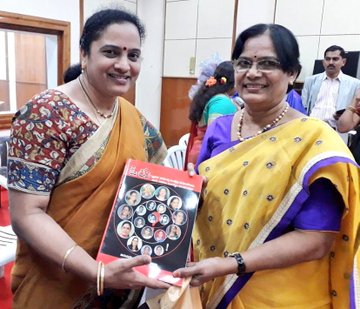 "In child rape cases it is not just the survivor but her siblings and parents suffer a lot. They are stigmatized and re-victimized by both the law and the society," says Dr Mamatha Raghuveer Achanta, Founder, Tharuni.
The poets vehemently criticized the society for its silence over child abuse cases. The child may get justice from the court but there is an extreme social stigma related to being the survivor of rape, which she and her family have to live with for years.
In Vikarabad district there were 200 cases of child abuse registered for compensation. But only 20 turned up to receive the money. Many denied the offer while others couldn't be traced in by the given address. Due to the shame of having been raped, families of rape survivors move away abandoning their land to other districts.
"In most rape cases the child has to shift her school because she cannot study in her present school because of the stigma. She will now no longer have the same friends or teachers. So along with the trauma of being abused, she has to face all these circumstances. Also, in many cases the family loses its livelihood as they move to new places," Dr Raghuveer adds.
The survivor and her family are neither spaced by the legal system. During the pre-trial and trial stages of rape prosecution, the survivors are again subjected to victimization.
"Recently a girl was taken to central jail to identify her rapist among the criminals. Through this act, the legal system itself is re-victimizing the child. Since that day she hasn't spoken about anything other than what she experienced at the central jail," Dr Raghuveer adds.
Need more child-friendly courts and Barosas in the state
Hyderabad has finally got a child-friendly court and Barosa centre last year to try cases of sexual offences against minors.
"Similarly we need more such centres in every district where under one roof all services are available. Survivors need not go to police, hospital, court. Once they come to Barosa everything happens in those premises only. In every district, we have 170 to 200 pending trial cases. In Hyderabad, the conviction rate was 2.5% earlier. But after the child-friendly court came the rate has come up to 35%," said Dr Raghuveer
"We have exponential laws but they are not being implemented due to the lack of infrastructure. Also, there is no sensitivity among the officers. We need a legal system that can continuously monitor the survivors, help them and rehabilitate them," she added.
"We are all rapists. The judiciary gives wrong evidence, doctors give wrong medical reports, and the bureaucrats, by silently sitting in their AC chambers support the rapists. We need every adult to behave like a parent to any child in the society," said the poets.