Hyderabad: Over the last three years, there have been 81 student suicides in colleges across in India. According to figures released by the Ministry of Human Resource Development, the country's most haloed institutions of higher learning have the highest number of student suicides. Fifty-three students killed themselves on the campuses of these premier institutes in three years.
AICTE-affiliated colleges have reported 28 cases of students taking the extreme step on college premises, according to the data.
At a time when premier institutes, including the IITs and central universities, are struggling to avert student suicides, the number of students from minority religious groups and marginalised sections taking their lives has increased significantly.
According to the ministry, as many as 21 students committed suicide in Central universities of the country. While three Indian Institute of Management (IIM) students killed themselves in the past three years, the number is 12 at the National Institute of Technologies (NITs). The Indian Institute of Information Technology (IIIT) witnessed one suicide.
However, the data comprises only student suicides on the campus. Instances of students ending lives outside can push up the figures. While a few such stories do come to light after they make headlines, several others are buried in case files.
So far this year, IIT Madras has seen four student suicides, the latest being that of Fathima Lathif, a first-year master's student from Kerala who was found hanging in her hostel room.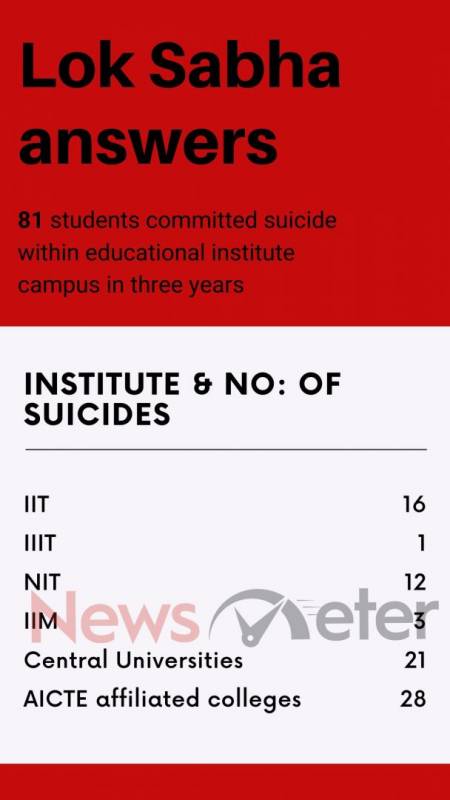 In September, a student of ocean engineering from IIT Madras, Shahal Kormath, killed himself. In January, Ranjana Kumari and Gopal Babu, both from Jharkhand, committed suicide at the premier technical institute.
If 26-year-old Dalit PhD student Rohith Vemula of Hyderabad Central University wrote, "My birth is my fatal accident" in his suicide note in 2016, a third-year student at IIT-Hyderabad, Pichikala Siddharth, before taking the extreme step, left behind a note saying "Sorry I turned out to be a waste", citing academic pressure as the trigger. This was the third death on IIT-Hyderabad campus in 2019. While the reason for Rohith's suicide was the injustice metered out to Dalits, Siddharth's was study pressure.
According to a Lancet study, suicide is the top cause of death among young adults in India. The study also says every one hour, a student commits suicide in the country.
Mental health professional Dr. Purnima Nagaraja told NewsMeter, "Life can be really hard particularly for youngsters. On one side there is so much stress of education and on the other side its the whole idea of going to a space where people isolate you. What would you do when you go to a premier institute and have a complete dissolution?"
"A lot of students think they should not speak to anybody about their emotional trauma and they need to be self-contained. When you are the eye of a hurricane you cannot see the extend of the hurricane. Students might start developing a lot of negative thoughts within themselves and that results in what is called Cognitive dissonance, and finally retreat into self-harm. Talk to somebody who will be able to see things more holistically than you. If you can change your branch then do that. If you have an option to take a semester break then take that break until you collect yourself and calm down, " she suggested.