Vizianagaram: An 86-year-old woman, M Goda Devi, beat COVID-19, is now a ray of hope for others suffering from the virus.
The woman, a resident of Kotha Agraharam area in Vizianagaram town in Andhra Pradesh, tested positive for COVID-19 and was admitted to the Maharaja Institute of Medical Sciences (MIMS) in Vizianagaram over two weeks ago.
The senior citizen was suffering from generalised body weakness and had also struggled to even chew food given to her at the hospital.
But luckily for Goda Devi, a police constable, Dharmavarapu Radhika, working at the town II police station in Vizianagaram, was also admitted to MIMS after testing positive for COVID-19. Radhika noticed the struggles of the octogenarian and helped her for over 10 days such as making the food easy for Devi to eat and so on.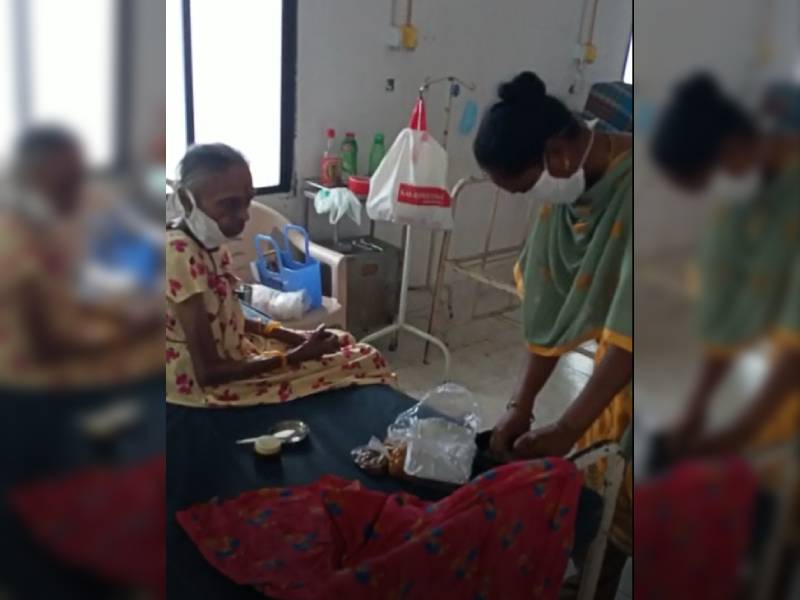 Thanks to the prompt treatment and the help from Radhika, Devi recovered and was discharged from the hospital on Friday evening.
On Saturday, B Raja Kumari, the Superintendent of Police, Vizianagaram, along with her staff visited Kotha Agraharam and greeted Devi at her home. The police congratulated the woman for beating COVID-19.
Devi was pleased by the visit from the Vizianagaram police chief and narrated how Radhika took care of her during her time of need. Devi was not aware that Radhika is a police officer until Friday morning. "I am really lucky to have met such a wonderful human being such as Radhika at the hospital especially when my family was unable to meet me," she added.
A woman police constable is winning hearts after she fed an 80-year-old COVID positive woman in a hospital ward despite being herself ill.
D Radhika, working at 2 Town police station in Vizianagaram town was at the forefront of creating awareness about the precautions. pic.twitter.com/L8ANJU4Bg3

— NewsMeter (@NewsMeter_In) July 25, 2020
[amp-tweet tweetid="https://twitter.com/NewsMeter_In/status/1286903587054919685"]
Raja Kumari assured Devi's family members that the police would be ready to help Devi in the future too in case of any emergency.