Highlights
Two-wheeler ambulances come to elderly's rescue
Hyderabad: In the noble quest to ensure that people, particularly the elderly citizens who get injured in road mishaps or fall sick, are able to reach nearby hospitals, almost immediately, a city-based organization, going by the wonderful name 'Good Samaritans India' has started a free bike ambulance service exclusively for abandoned elderly in the city. A small closed cabin fixed to one side of the bike acts as a mini ambulance, which is spacious enough to hold a saline stand and oxygen cylinder.
The 250cc engine capacity bike with an attached cabin carries two patients. While the severely injured patient rests in the cabin, the attendant sits behind the rider.
Mr George Rakesh Babu, founder of Good Samaritans India, says, "Bike Ambulance is easy to drive. It is easy for us to drive through Hyderabad traffic and ensure that the patient is admitted in a hospital at the quickest possible time."
The bike ambulance, which is into this mission since August, has helped around 80 elderly patients. The organization arranges free medical aid, food and stay for the elderly who are lost or abandoned.
Talking about how bike ambulance is more economical, George says, "For an ambulance van, one has to spend Rs. 400 to Rs. 500 on diesel or petrol every day, but for bike I just fill Rs. 150 petrol and it runs for the whole day."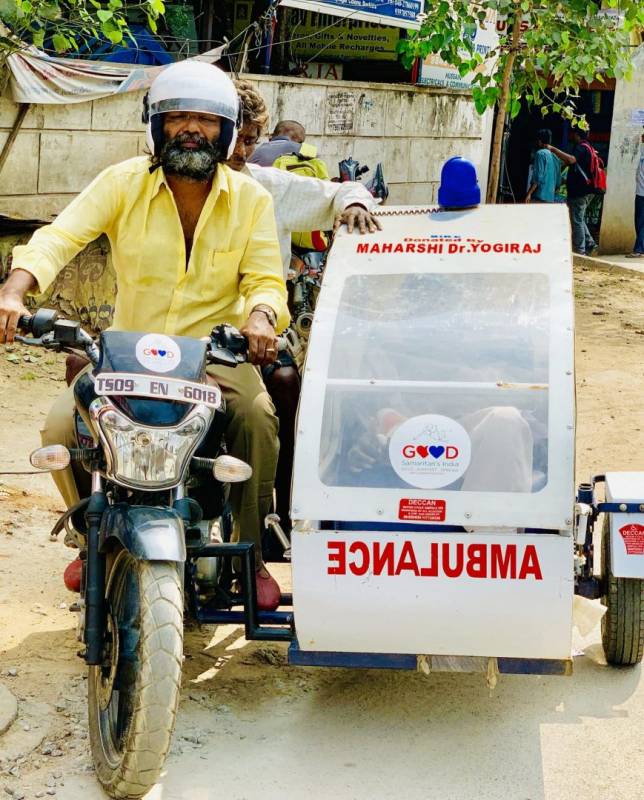 He also added that the bike ambulance gets lots of attention. He says, "As it is something new, it is soon noticed by the people. The traffic ahead moves away and people look at us with amusement."
George aims to get three more bike taxis, so that he can help many other needy elders. The main aim is to reach the narrow lanes, during a medical emergency.
Bike ambulances are not a new concept in India. In Mumbai, it was pioneered by Lodha Foundation while the governments of Delhi, Karnataka and Himachal Pradesh have launched a bike based first-aid service that reach the patients before the four-wheeler ambulance and provide necessary first aid, till the four wheeler reaches.