East Godavari: On the 150th birth anniversary of Mahatma Gandhi, Devina Srinivas has chosen a novel way to pay tribute to the father of the nation. A resident of Rangampeta of East Godavari district, Srinivas made a sand sculpture of Gandhi. The multicolour artefact made in his home town is attracting old and young alike.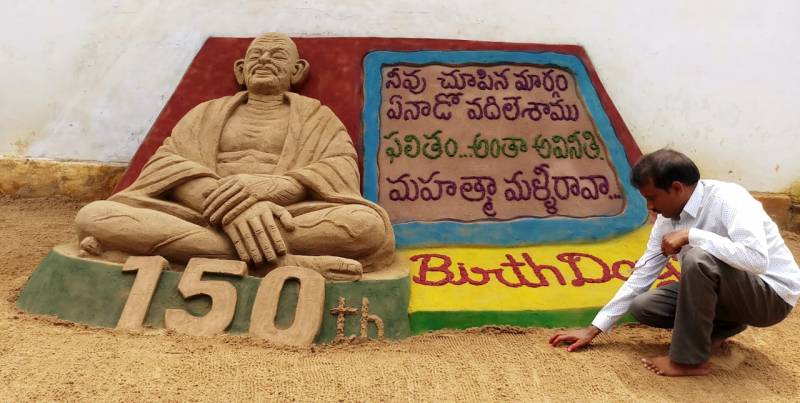 It took him 16 hours to complete the sand sculpture. It is eight feet high and 15 feet wide. The slogan is also quite interesting. Depicting the present corrupt society, it says, "We left your way long back, resulted in corruption. Won't you come back again." These words are thought-provoking and made his art worthwhile.
"It took three units of sand to finish the sculpture," Srinivas told NewsMeter. "I arrange lighting and decoration for functions. However, making sculptures with sand is my hobby. I made sculptures on important national and international occasions. I have been doing this for the last two years. I learned this on my own. It takes a lot of time and patience to prepare a sculpture. It gives me immense satisfaction after completion," he added.
Srinivas is one of few artists who excel in making sand sculptures. Taruni Prasad Misro is another artist from Srikakulam who steals the limelight on important days with his work. He attended several national and international events and competitions proving his skills.