Hyderabad: India's biggest uranium mine is to come up in Kadapa district of Andhra Pradesh. With 6,000 tonnes of uranium produced per day, this mine at Kanampalli is expected to beat the current records of Tummalapalle mines. Satellite images of Tummalapalle mines and the adjacent tailing pond show how Kadapa district is turning into a uranium cemetery.
The images depict how uranium waste from Tummalapalle mine has almost filled the tailing pond over the years. Over 9.2 lack tonnes of uranium waste is dumped into the tailing pond per year. Moreover, over the years, the radioactive slurry from the pond has contaminated neighbouring water bodies, thus affecting everything from villagers to livestock and crop.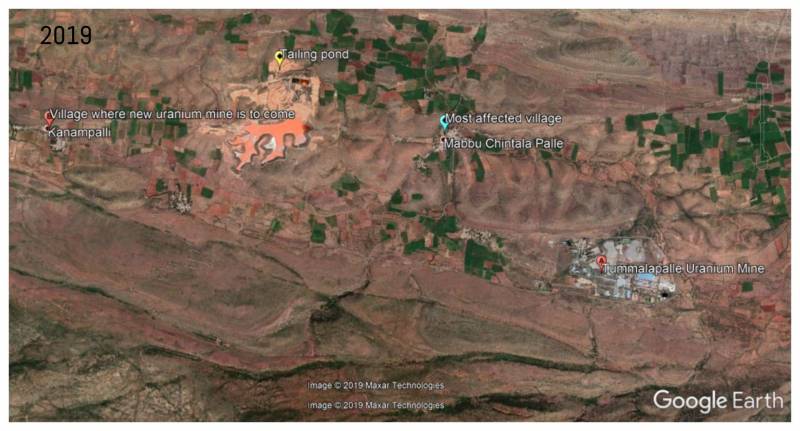 Uranium Corporation of India Limited (UCIL), a government enterprise, started its operation in 2012. This uranium ore in the Kadapa Basin is currently the largest reserve in the country. UCIL acquired the neighbouring villages of Mabbu Chintalapalle, Tummalapalle, Bumayigaripalle and Rachakuntapalle of Medipentla Mandal and Velpula and 60 hectares in Kottala village of Vemula Mandal for "tailing disposal". These are the villages where radioactive mining waste from UCIL has been dumped for the past seven years into a body known as a "tailing pond", which is six kilometres away from the unit. Among these villages, Mabbu Chintalapalle village which is at a distance of 2.47 km from UCIL and 4.45 km from the tailing pond is the most affected.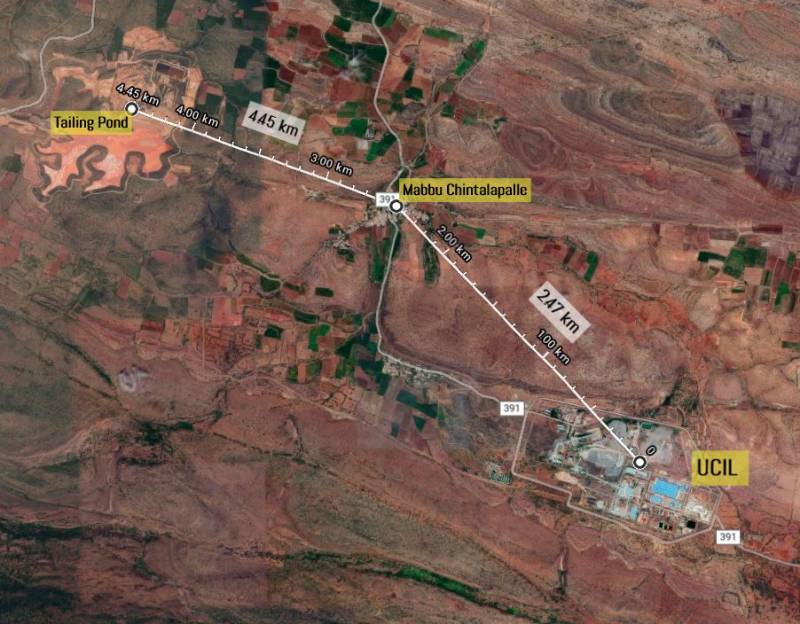 According to the Andhra Pradesh Pollution Control Board, the Tummalapalle project processes 2,350 tonnes of ore per day. However, out of this, only 1,305 grammes of uranium can be extracted, while the rest becomes radioactive waste that is dumped into the tailing pond.
While UCIL officials continue to claim that tailing ponds are constructed and maintained on par with international standards, experts have a different take. According to the global safety protocols, tailing ponds needs to be lined with bentonite clay and polyethene to avoid polluting groundwater, but the Tummalapalle pond is unlined. It allows the radioactive slurry to find its way easily into all neighbouring water bodies.
However, UCIL continues to deny the role of uranium mining operations in the higher levels of salinity and total dissolved solids in groundwater samples from the area.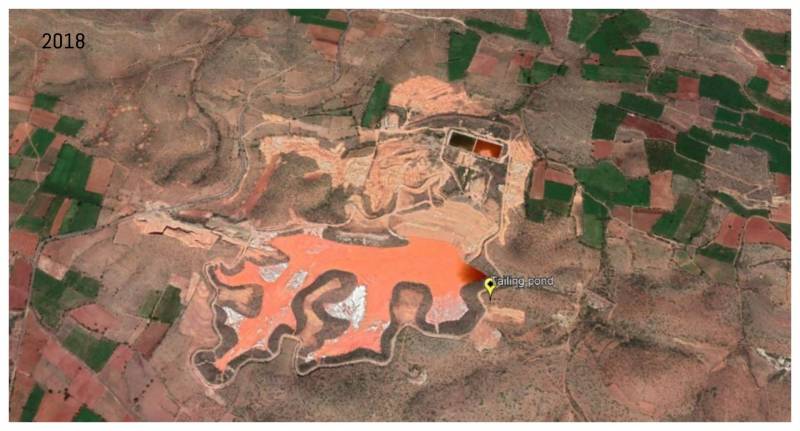 Site unfit for tailing disposal
Dr K Babu Rao, retired Indian Institute of Chemical Technology (IICT) scientist, told NewsMeter that the site is unfit for tailing disposal. "You cannot use an undulating terrain for disposal of tailing. We need to remove the water continuously that's going into the pond. However, when it's an undulating terrain, how will the water flow in just one direction? It is evident that at Tummalapalle, the tailing pond is not lined or compacted. If there is a lining, then there will be zero seepage."
Ideally, the terrain of a tailing pond should be as plain as possible and seepage proof so that the water will flow only in one direction and does not enter the groundwater. However, at Tummalapalle, in a 30-metre distance, the liquid that comes with tailing is seeping through different points into the groundwater. When a new uranium mine comes, more tailing ponds are expected to emerge in Kadapa.
There are no professional groups in India for designing tailing ponds. At the same time, there are highly qualified engineering consultants for designing tailing ponds in Latin American and African countries.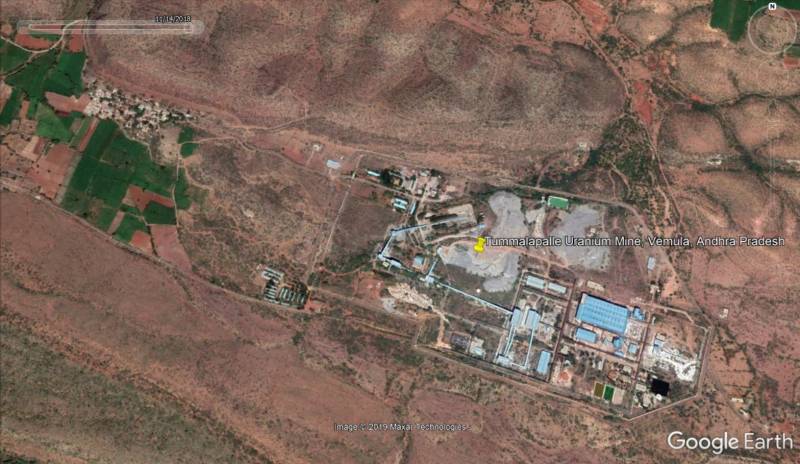 Dr Babu said, "The first impact will be groundwater. Already, the old mine is draining out 18,000 cubic metres of groundwater per day. The upcoming mine is double the size. If not groundwater, from where else is UCIL going to bring water for processing the plant. Here, the government has given priority to industrial projects over the life of the people. They will be depriving existing projects like Gandipet reservoir, and the farmers who got their water after several decades of struggle will lose what they recently got. People will not be able to live in those villages any longer. The communities in the area mainly depend on groundwater. There is no other source of water for them. They use it for domestic purposes as well as agriculture."
People in Kadapa use groundwater for cooking, bathing and washing. Today, people of every age have started to develop chronic skin diseases, which doctors say is incurable. The livestock in the affected villages has also been excessively dying over the last two years.
"There are no norms in this country on mining waste disposal. No government department is concerned about what is happening in Kadapa. There is no answer to the deteriorating health condition of the villagers. I think this will be the death of Kadapa district. People can no longer live or prosper there. They can only be victims. The mine is not doing any good to the villagers." Dr Babu said.
Once a new mine comes, the current RO (Reverse Osmosis) plants will also be insufficient. "Who is going to upgrade the ROs as the groundwater pollution increase? There is no monitoring of whether the water output from ROs is suitable for drinking," the scientist added.
Authorities and UCIL keep denying what is evident from the villages. NewsMeter asked the UCIL authorities how it's planning to manage the existing groundwater contamination with new Uranium mine coming.
Speaking to us, UCIL CMD C K Asnani said, "Whenever there is mining, public issues will always be there and that's part of the game. Today, the groundwater is not contaminated due to UCIL. Therefore, in future as well, when the new mining plant comes, it's not going to have an impact on the groundwater. And of course, more tailing ponds have to come up when there is a new mine."