Visakhapatnam: World Badminton Champion and Ace Shuttler PV Sindhu on Saturday inaugurated the renovated Railway indoor-sports enclave here in Vizag city. In order to promote Railway Indoor Sports complex, East Coast Railway Sports Association, Waltair Division has opened a Railway Indoor Sports Enclave popularly known as RISE in the year 2016.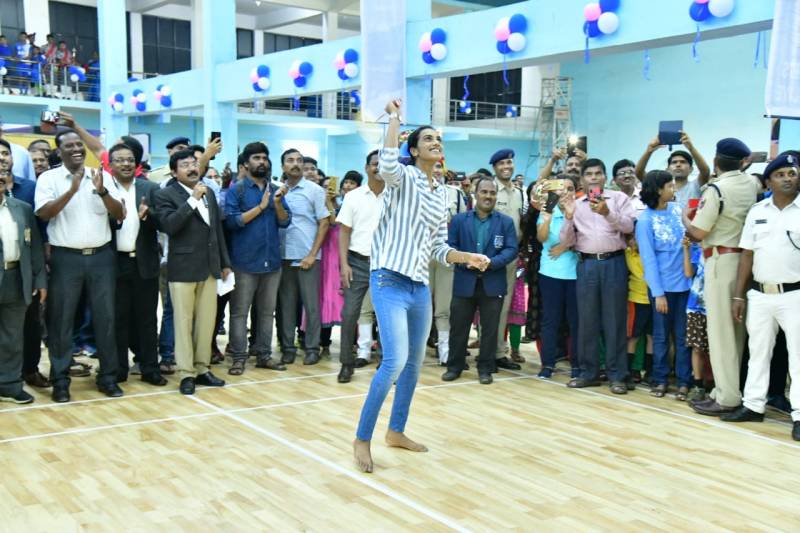 The sports complex has facilities for Badminton, Table Tennis, Karate and Boxing. Several National camps and championships have been hosted by RISE including Kabbadi, Senior National weight Lifting championship etc.
Starting with Indra Ghosh, the then Divisional Railway Manager and succeeding DRMs have immense contribution towards the improvement of sports facilities in the Waltair Division.
At present Waltair Division having its Sports Hub at Waltair Railway Stadium comprising world-class facilities like Olympic size Swimming pool, Football, Tennis, Basketball, weightlifting and a National Standard Cricket Stadium where Ranji and CK Naidu tournaments were held recently.
Present DRM Chetan Kumar Shrivastava himself is a sports lover and has taken initiative for construction of Gymnasium, Squash court and floodlit stadium for which works have already been started. His aim to develop Waltair Sports complex into Centre of Excellence in sports with the help of his team consisting of Sports Officer Sakkeer Hussain and Assistant Sports officers Shiva Harsha and Shri Anil Kumar
Aiming to ignite the sport talent in this region, bringing top-notch amenities at the RISE indoor sports complex stuffing it to National and International Standards with added facilities like Indoor Basket Ball court, the renovation works initiated in the month of November-2019 in which around 15000 square feet area has been brought under certified wooden flooring from the fund generated by its own revenue.
ECORSA has plans to develop a reputed National Level Badminton Academy here. The motto is to provide quality coaching services to Vizagites with the aim to make it a fountain ground for the badminton champions. RISE, because of its locational advantage is another reason for its high popularity.
In this context, we invite Vizagites to join hands in the growth progress and support with true spirit to provide world standard sports services to all together with promising sports prodigies of the Visakhapatnam.
Speaking on the occasion, Sindhu said that Vizag city has produced many talented sportspersons and city has a lot of potential to emerge as the sports city of Andhra Pradesh. Sindhu said that she is preparing for the Olympics-2020 with an aim to clinch the gold medal.