New Delhi: With the Environment Pollution (Prevention and Control) Authority (EPCA) declaring a public health emergency in Delhi NCR amidst the Hazardous air quality in the region due to stubble burning, Delhi CM Arvind Kejriwal has ordered all the schools in Delhi to remain shut till November 5.
With the upcoming Bangladesh tour to start from November 3, the Bangladeshi cricketers were seen wearing masks while practising at the Arun Jaitley Stadium raising health concerns ahead of their first T-20 match in New Delhi on Sunday.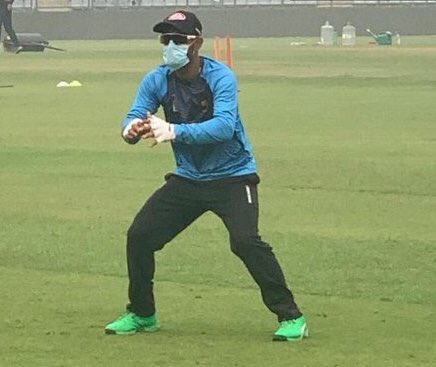 After the festive season, New Delhi's air quality deteriorated from bad to worse, and a health emergency has been declared in the state. Satellite data obtained from VIIRS/SuomiNPP shows that a large area of about 13,00,000 sq km covered by smoke in North India as of today, which is about twice the area of France.
Large area covered by #smoke in North #India 🇮🇳 today (about twice the area of France). Hundreds of millions of people are living in this area. VIIRS/SuomiNPP #satellite data. #airquality pic.twitter.com/1gnUC4ntiJ

— Antti Lipponen (@anttilip) October 31, 2019
Few images acquired by the SentineI3 satellite on October 31 had shown that air pollution is only in Delhi and the reason behind this are the man-made fires in Punjab and Haryana. The fires caused a smoke cloud that engulfed the northern part of the nation.
In #India #airpollution is only in #Delhi. #Fires of #Punjab and #Haryana caused a #smoke cloud that has engulfed the northern part of the nations 🇮🇳.
Images acquired today, 31 October, by #Sentinel3 🛰️🇪🇺.#DelhiSmog #DelhiPollution
cc @KanchanGupta @brijeshkalappa pic.twitter.com/snhx9gK0Jm

— Annamaria Luongo (@annamaria_84) October 31, 2019
The decline in the air quality levels post Diwali has led to an increase in the demand for masks.
Latest information obtained from the real-time air quality index of the world shows Delhi at 810 AQI. This alarming rise in the air quality index has made Delhi's air, the most dangerous to breathe. AQI above 500 is considered as hazardous. With Delhi currently at 810 AQI, the entire state is under the category of hazardous air. Smog is set to stay for around three more days in Delhi.
Reacting to the air quality levels, Chief Minister Arvind Kejriwal claimed that the Delhi government has brought down pollution levels in the last five years. He urged the neighbouring states of Punjab and Haryana governments to control the burning of crops due to which Delhi is being affected.
As a preventive measure, the Delhi government has distributed 50 lakh masks to private and government schools from today. Delhiites have been asked to use the masks in t-20 match.
Delhi has turned into a gas chamber due to smoke from crop burning in neighbouring states

It is very imp that we protect ourselves from this toxic air. Through pvt & govt schools, we have started distributing 50 lakh masks today

I urge all Delhiites to use them whenever needed pic.twitter.com/MYwRz9euaq

— Arvind Kejriwal (@ArvindKejriwal) November 1, 2019
Meanwhile, BCCI president Sourav Ganguly has shown no signs of cancelling or changing the venue of the first T-20 match from Delhi which is set to begin from November 3.
Reacting to the current crises, member of Parliament from East Delhi and former cricketer Gautam Gambhir stated that it is an issue much more serious than a cricket match. People in Delhi should be more concerned about the pollution levels rather than a cricket match.
#cropburning observed in various parts of NorthIndia, below images are near Moradabad #UttarPradesh acquired by #Sentinel2 on Oct-16-2019. The practice of stubble burning raises the PM concentration in the air up to 500 micrograms per cubicmetre(danger) https://t.co/yoNBfZDX7g pic.twitter.com/pxRyezHqG1

— Pradeep Goud Macharla 🌍 (@Macharlazz) October 18, 2019
How #stubbleburning in North India is impacting the #AirQuality across #India. Check out this AirVisual map with PM2.5 levels. Do we all deserve this?#DelhiPollution #DelhiAirEmergency #DelhiBachao

Source: https://t.co/WVI2hwEABl https://t.co/gVJXNOrVgv pic.twitter.com/YkaExQFAS8

— Pradeep Goud Macharla 🌍 (@Macharlazz) November 3, 2019