Hyderabad: The Telangana government's order to conduct COVID-19 tests only at Gandhi and NIMS hospitals is undemocratic and in violation of the rights of the citizens, the Telangana High Court said on 20 May. The court directed the state government to allow people to get tested in private hospitals and noted that it is their right.
The High Court, while hearing a petition on allowing COVID-19 tests in private hospitals, directed private hospitals to conduct the tests as per the ICMR guidelines. It also directed all hospitals to apply to ICMR under requisite procedures for conducting tests.
Meanwhile, the court also questioned how private hospitals can function if the government has no trust in them and how they are empanelled for treatment under the ArogyaSri health scheme. It directed the government to allow private hospitals to conduct COVID-19 tests and treat patients after they are inspected and notified by the ICMR.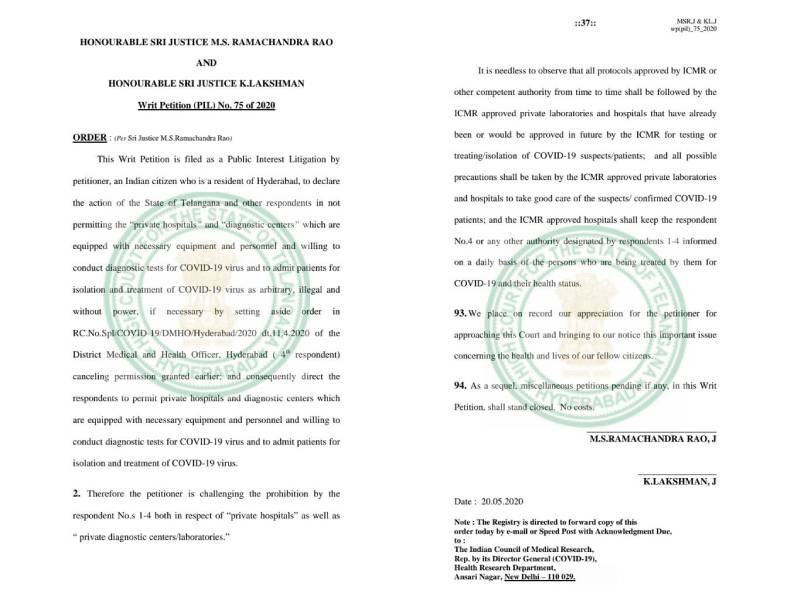 This comes at a time when the state government is drawing flak from several quarters for not conducting enough tests. Earlier, the court had pulled up the Telangana government for discrepancies in the number of tests conducted in the state and regarding testing of samples collected from people who died of COVID symptoms. In both instances, the court had expressed displeasure in the way the government was handling the pandemic.