Hyderabad: Indian Meteorological Department has forecasted heavy to very heavy rain in Telangana for the next three to four days.
Telangana Chief Minister K Chandrasekhar Rao has called a high-level meeting at 1 PM to assess the situation. Chief Secretary, DGP, officials from the Water Resources Department, Electricity, Municipal, Panchayat Raj, Agriculture, and Natural Disaster Management are likely to participate in the meeting.
The CM has already put the official machinery on a high alert. Relief measures are taking place wherever required.
Chief Minister is regularly monitoring the situation. The heavy rains have caused inconvenience at some places in the State.
Sixteen DRF teams consisting of 360 personnel working round the clock in three shifts in the city. All DRF teams equipped with equipment and safety gear are handling complaints of Treefalls, water logging and other citizen assistance issues. 3 Specialised boat teams are ready and kept on standby to attend to any contingencies arising out of heavy rains/inundation.
Over 200 complaints from citizens have been attended to and cleared in the last 72 hours. All steps being taken to minimise citizen inconvenience. DRF teams have successfully ensured that no major traffic issues have come up in the last three days due to Water stagnations or Treefalls. Specialised machinery and pumps have been placed at strategic locations in the city for ensuring quick response in case of incidents.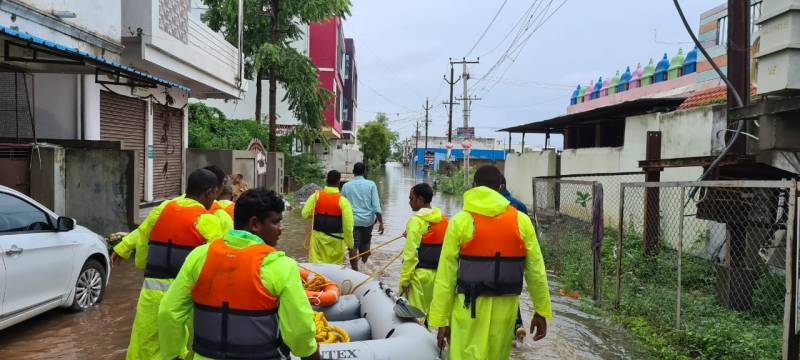 Three teams of DRF including one boat team are taking up rescue and relief operations in Warangal from yesterday. Over 36 citizens have been rescued by DRF in Warangal till now
The water level in the Godavari river at Bhadrachalam has crossed the danger mark. The water level was 59 ft at 8 am.
In East Godavari of Andhra Pradesh 17.44 lakh cusecs of water is being released into the sea from Sir Arthur cotton barrage. Pond level was recorded at 16.80 feet. A third warning will be issued once the water level reaches 17.75 feet.
In Taliperu Project Khammam, 25 gates have been opened to discharge 1, 41,425 cusecs of water. The present level at the project is +72.50 meters and the capacity is 471.597 Mc.ft. The water level is continuously rising at the project.
As per TSDPS figures, Venkatapuram in Mulugu district received 166.5 mm rainfall followed by Wazeed 154.5 mm. Mujigi in the Nirmal district received 128 mm of rainfall up to 8.30 am. Heavy rains continue to lash many parts of Telangana.