Hyderabad: It was delivery time for Varsha from Adilabad district, in Telangana. She was already stressed out due to the COVID-19 lockdown, and adding to her worries, she was advised to get admitted in King Koti Hospital, Hyderabad due to complications in her delivery.
On April 2, in the morning, Varsha reached Hyderabad's King Koti Hospital in an ambulance, along with her parents.
However, the challenges did not end there. Varsha was in dire need of blood and the hospital authorities asked her to either find an AB+ve blood donor or get it from the blood Bank. Her parents, who didn't know who to approach for help, were assisted by the hospital authorities and message was circulated that there is a need for AB+ blood.
While reaching out to donors, Varsha happened to call Sai Vamshi Reddy who became the saviour. Sai Vamshi, who works with Deloitte has been donating blood since 2017 and is a part of many donation groups. Speaking to NewsMeter, he said, "I shared on all social media groups that there is a need for AB+ blood group, but due to the COVID-19 lockdown, nobody was able to venture out."
"I went to the hospital and met Varsha's father, and then I went to Durgabai Dhesmukh Blood Bank to ask them if they have AB+ blood," he said.
Sai Vamshi is a volunteer with Society for Cyberabad Security Council (SCSC), which is an NGO working in close co-ordination with Cyberabad Police, to ensure safety and growth of Hyderabad's IT corridor. Since this comes under essential services, Sai Vamshi was allowed to travel. He was travelling with a cause, so police didn't stop him as well.
Explaining what happened at the blood bank, the volunteer said, "I was told by the blood bank that I will have to pay Rs 1500 for the blood. They usually collect this money to cover the costs of blood test and storage. They said that if three people donate blood, they would give it for free."
"But I was the only one available, so I donated blood my A+ blood and they gave me the required quantity of AB+ blood for a subsidized rate. I paid the amount as the family of Varsha was unable to bear the cost," said Sai Vamshi.
It was Vamshi himself who carried the blood from the bank to the hospital. Soon after giving the blood, he left to deliver food packets to the needy.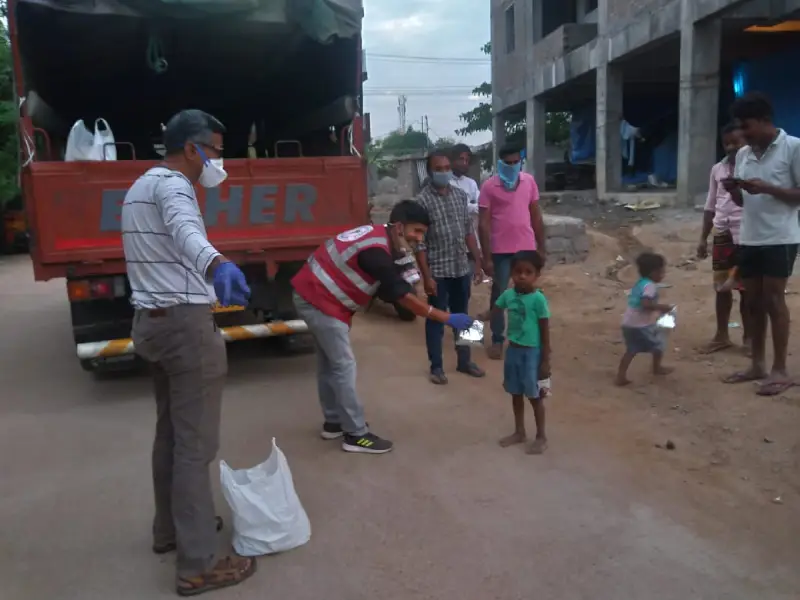 Meanwhile, Varsha delivered a baby girl on April 3. Vamshi says, "I was so overwhelmed when she shared the picture of her daughter and sent a message, 'Thank You Annaya'."
Vamshi, who took this kind step even amidst a lockdown, thanked the Cyberabad Police as he was able to do this only because he is a SCSC volunteer.