Highlights
A lone man collects Rs.8000 for RTC employees
Hyderabad: He can easily be called the unsung hero for the TSRTC employees who are on strike for the past 46 days. He is not employed in the Corporation but is moved by their plight.
In a unique initiative, Satwinder Setia a product of IIT Delhi, not only launched 'Save RTC' campaign but also raised Rs 8, 000 from November 7 to 15 by seeking donations from passersby at Elwin Chowk, a traffic signal between Ligampally and Kukatpally. It was also a regular scene for those traversing that junction from 8 am on those eight days. Standing all alone besides the banner with a donation box and a placard reading 'KCR not paying salary, we will pay', Setia urged those passing by and motorists waiting at the signal to contribute generously for the noble cause. Many Good Samaritans responded positively and he raised the amount.
Now, he is waiting for the right person, one could help the RTC employees for whose benefit he undertook the campaign. He is likely to give the amount so raised to FIT Group.
Speaking to NewsMeter, he said, "Well, this is a very tiny amount, but if a hundred like-minded people can take up similar initiatives, we can collect more and help a handful of families that are suffering because the bread-earner has not been getting salaries for the past two months."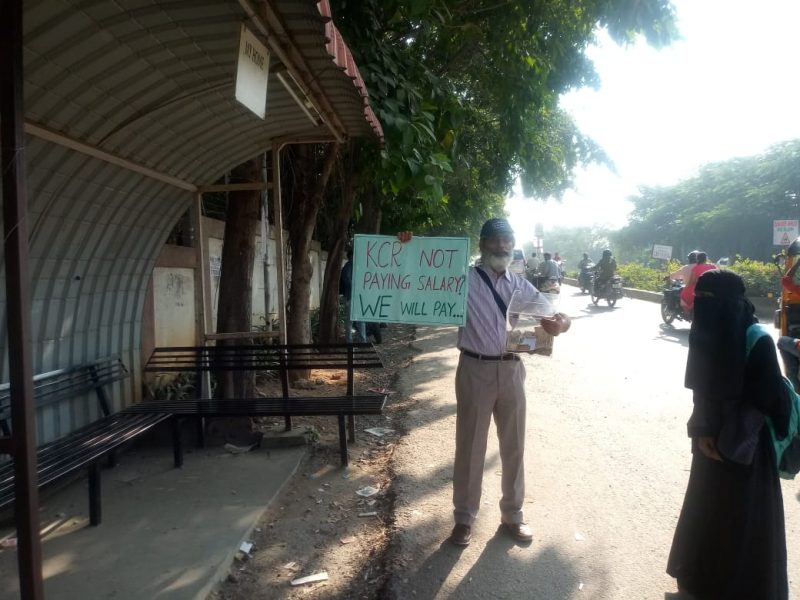 On one of those days, he met some of the striking employees and narrated about his endeavour. The skeptical people dismissed this as a new scheme to go begging for his own benefit. Unfazed by such a setback, Setia collected Rs. 1,600, which he gave them, there and then.
In another novel measure, he urged some employees to put up a board saying 'Car wash by RTC employees'. The proceeds from the same could be used to meet some of the emergencies. Moreover, this was not begging because they were rendering physical labour.
Setia also met people from 'Forum to Improve Things' (FIT), a group which raised Rs. 36,000 in two days with which they bought essential food items for some of the families of the striking employees. They distributed kits that contained rice, dal, and other household provisions at the Miyapur depot.