Visakhapatnam: A dispute between lawyers groups of Visakhapatnam, Vijayawada and Rayalseema have started with each seeking Andhra Pradesh High Court for their city.
The advocates of North Andhra Pradesh, comprising Visakhapatnam, Vizianagaram and Srikakulam district have formed a Joint Action Committee to intensify the agitation. They demand to shift (relocate) the temporary AP High Court from Nelapadu, near capital Amaravati, to Vizag and establish a permanent High Court there.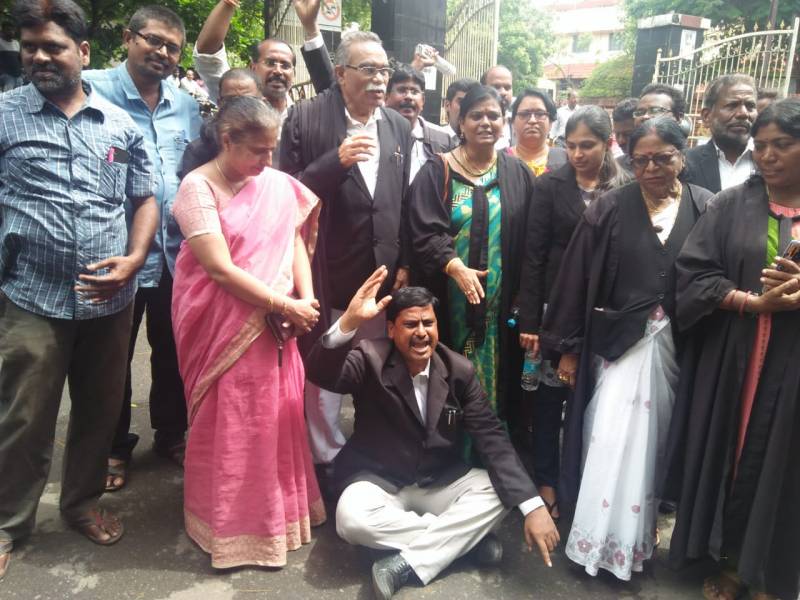 JAC chairman and President of VBA, Gorusu Maheswara Reddy told temporary HC at Nelapadu was bereaved of basic amenities. There is no transport facility for the public and legal fraternity. The advocates of Visakhapatnam Bar Association (VBA) on Wednesday boycotted courts to press their demand, and they will continue on Thursday as well. VBA has over 4,000 advocates, including 1,000 female members, told Gorusu Maheswara Reddy.
Compared to Amaravati, Kurnool and a few other cities in Andhra Pradesh, Vizag is the ideal place for permanent HC. The city is well developed and houses many reputed law colleges including Andhra University's College of Law, Damodaram Sanjeevaiah National Law University, and GITAM School of Law.
On the other end, advocates of Kurnool, under the banner of Kurnool District Bar Association launched a strike. They demand that the Andhra Pradesh High Court be shifted to Kurnool in the Rayalseema region. Senior advocate and former President of the Bar Association Jayaraju Yeggoni said that Andhra Pradesh should be developed on a decentralised model for the development of all areas. Rayalseema has been neglected for decades by successive governments.
The establishment of the High Court at one place and capital city at another location is ideal, as done in some other states. Shifting HC to Kurnool is not only a historical necessity but also pushes development in the region, Jayaraju Yeggoni added.
However, advocates of AP High Court and Vijayawada Bar Association demanded YSR Congress government not to shift the High Court from Amaravati. They demanded Chief Minister YS Jagan Mohan Reddy announce his stand regarding the shifting of HC