Hyderabad: The COVID-19 death toll in Andhra Pradesh reached 31, the highest in south India and sixth-highest in the country. The state health department has constituted an eight-member committee to audit the deaths to help better understand and prepare strategies to treat other patients.
On 28 April, 82 new positive cases, so far the highest number in a single day, were also reported taking the total number of cases in the state to 1,259.
The eight-member committee, headed by the director of medical education (DME), will examine all the case records to ascertain the cause of deaths. It will also analyse the trends and use the data to predict future trends and plan management strategies and suggest measures to reduce the mortality rates.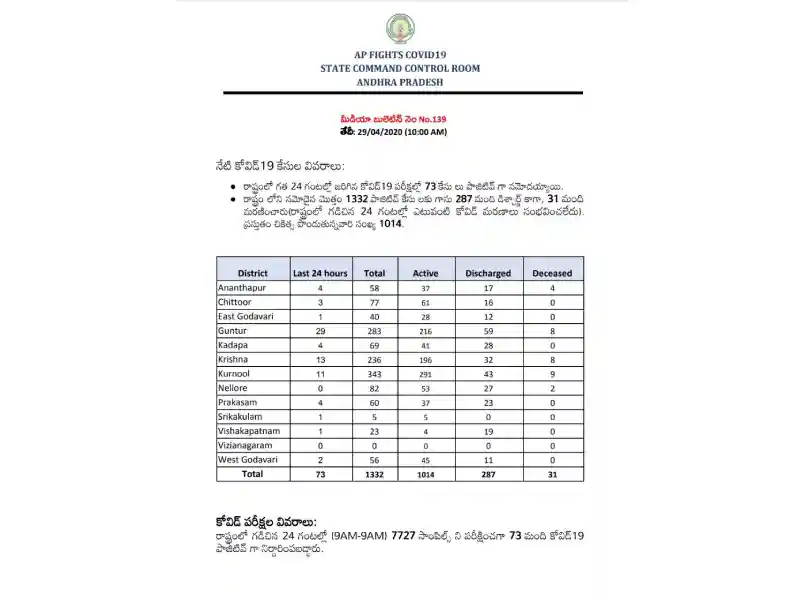 Telangana, meanwhile, has recorded 26 deaths while Tamil Nadu has registered 24. The COVID-19 toll in Karnataka is 20 and in Kerala, it's four. Neighbouring Odisha has registered one death so far.
Special chief secretary Dr. Jawahar Reddy said the audit will be carried out by a panel of experts, including the DME, the director of public health and family welfare, and professors in forensic studies, community, and general medicine. The committee will submit its report to the state nodal authority for COVID-19 and the commissioner of health and family welfare, he added
With 73 more fresh COVID-19, Andhra Pradesh reports 1,382 cases as on April 29th
Vijayawada, April 29: The hot beds of coronavirus in Andhra Pradesh (Guntur, Krishna and Kurnool districts) continued to register new positive COVID-19 cases for the past few days. The number of infected shot up to 1,382 with the addition of 73 new cases in the last 24 hours in Andhra Pradesh.
Fortunately for the fourth consecutive day, no COVID-19 deaths were reported in Andhra Pradesh. The death toll remained at 31 in the State. Of the 73 new COVID-19 cases, Guntur district reported 29 cases while Krishna district registered 13 cases and Kurnool district reported 11 cases.
With 343 cases, Kurnool district stood table topper in the State followed by Guntur district at 283 cases and Krishna district at 236 cases. The Vizag and Srikakulam districts reported one case each on Wednesday.
Meanwhile, 29 more patients recovered from the disease and have been discharged in the last 24 hours. This takes the total number of cured to 287. Andhra Pradesh has a total of 1014 active COVID-19 cases undergoing treatment in various hospitals. Official sources said that 10 patients are in the ICU and around four of them are in critical condition.The Vizianagaram district of North Andhra Pradesh continued to maintain a clean slate with zero cases till date
A total of 7,727 samples were tested from 9 am on Tuesday to 9 am on Wednesday of which 73 turned positive and the remaining proved negative.