Vishakapatnam: Andhra Pradesh has earned a dubious distinction of becoming the eight state in the country having the highest crime rate.
According to National Crime Records Bureau (NCRB), Andhra Pradesh accounted for 3.7 per cent of India's overall cognizable criminal cases. In terms of Special and Local Laws (SLL) cases, there has been a 46 percent increase in 2019.
In crimes against women, Andhra Pradesh stands at tenth place in the country with 17, 746 cases in 2019. Crimes against women have increased by 7 per cent compared to 2018.  As many as 1086 cases of rapes were reported in 2019. Of the1104 rape victims in the state, 561 are children and 543 are women. In 42 rape cases, the offenders were unknown to victims while in 1044 rape cases, the accused were either family members or friends and relatives.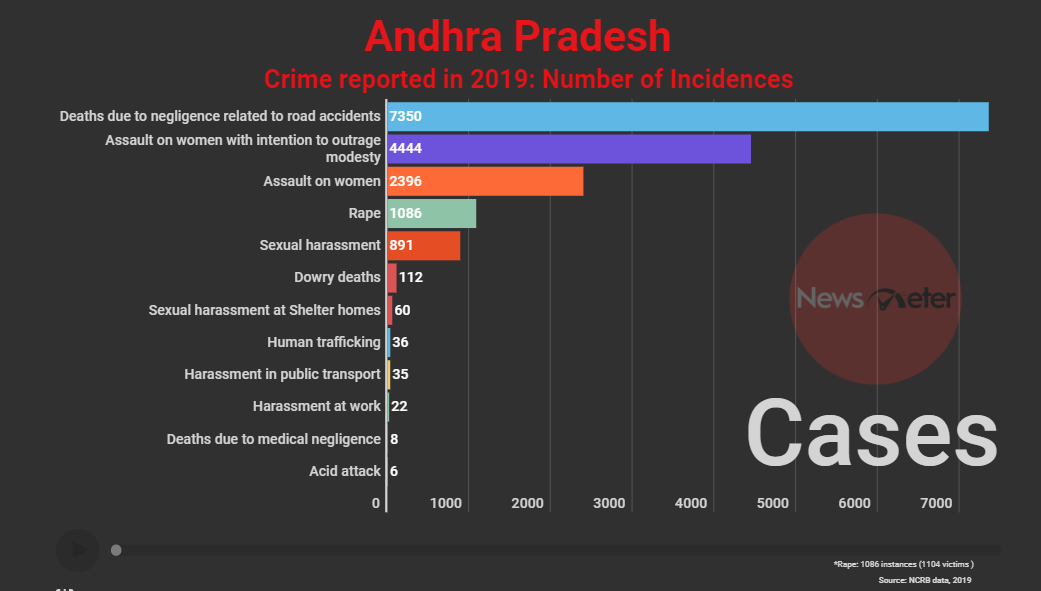 The number of murder case in Andhra Pradesh saw a seven percent decrease during 2019. As per the data, on an average two murder cases take place daily in the state. A total of 870 cases of murders were registered in the state in 2019, while in 2018, 935 murder cases were reported. Disputes (property disputes, family disputes, petty disputes, money disputes and others) accounted for 369 murder cases followed by illicit relationship at 164 cases. The personal vendetta or enmity resulted in 56 murder cases.
In terms of crimes against scheduled castes (SCs), AP saw a12.79 percent increase in 2019, while the crimes against members of Scheduled Tribes (STs) remained the same in 2019 compared to 2018. A total of 112 cases of rapes against Dalit women and Dalit children were reported last year. Around37 cases of murder of Dalits were reported in the state in 2019.