Hyderabad: A case was booked against Kings Restaurant & Bar in Vidyanagar, Hyderabad for charging above MRP on an energy drink.
S. Umesh Kumar filed a complaint against the restaurant and the legal metrology-district inspector conducted inspections against the restaurant and bar on September 8, 2019. During inspections a case was booked for charging above MRP on an energy drink.
According to Section 18(2) of Legal Metrology (packaged Commodities) rules 2011 "No retail dealer or other person including manufacturer, packer, importer and wholesale dealer shall make any sale of any commodity in packed form at a price exceeding the retail sale price there of. It I also violation of Consumer Goods act 2006".
Mr Umesh Kumar, the complainant and RTI activist told Newsmeter, "Generally people who visit restaurants and bars, don't dare to question the management because they will be man handled. I gave a complaint on water bottle and soft drinks being charged above MRP against the same restaurant."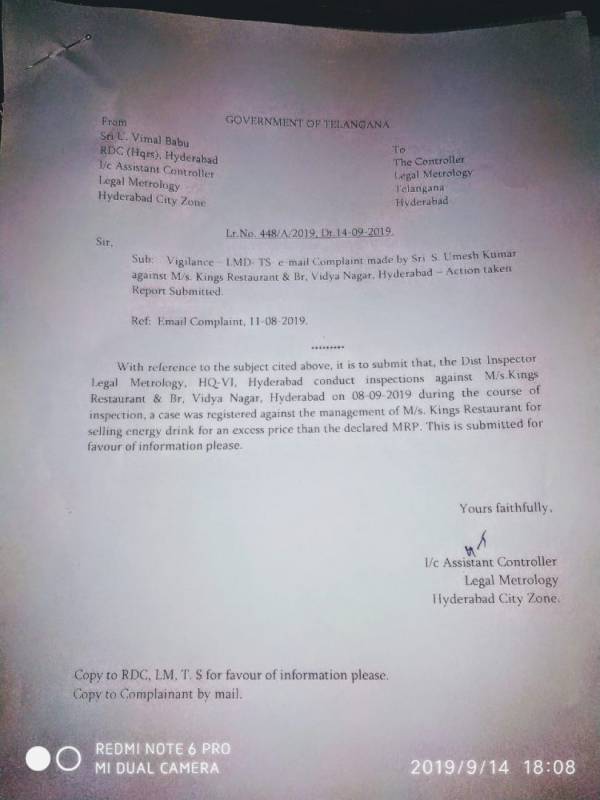 Mr Umesh alleged that consumers are being looted openly by the establishment and demanded stringent action against the restaurant.
Mr Umesh said, "MRP of the water bottle is `20, however, the Kings restaurant and bar has been collecting `35 an excess of `15 above the MRP. Soft drinks are also being charged above MRP. It is evident that this restaurant is violating the rules of legal metrology. The establishment should be booked under the section 18(2) of LM rules 2011. Concerned officials should impose a hefty penalty against the restaurant which will prevent future legal metrology violations."
Mr Umesh believes that the legal metrology department should conduct surprise checks on hotels, bakeries, restaurants and bars instead of taking action after receiving a complaint.