Hyderabad: The Andhra Pradesh State Council of Higher Education (APSCHE), on 6 May, released the revised schedule for Andhra Pradesh Engineering Agriculture and Medical Common Entrance Test (EAMCET), Andhra Pradesh Engineering Common Entrance Test (ECET), and Andhra Pradesh Post Graduate Engineering Common Entrance Test (PGECET).
According to the new schedule, AP-EAMCET will be conducted between 27 and 31 July 2020, while the APECET examination will be conducted on 24 July and the AP-ICET on 25 July. Meanwhile, the PGECET will be conducted between 2 and 4 August and EDCET will be conducted on 5 August. LAWCET examination will be conducted on 6 August and PECET between 7 and 9 August.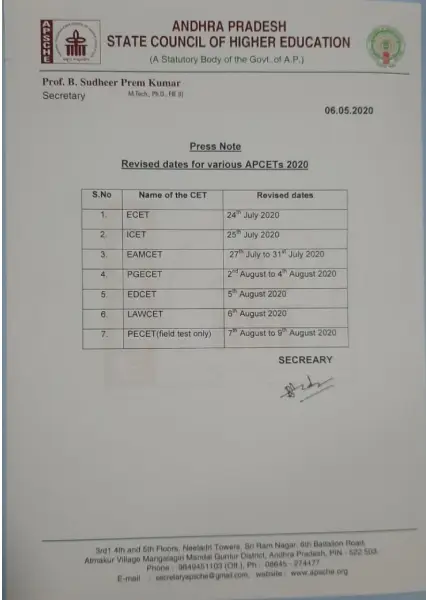 Earlier, the last date of application for all these exams was 7 May 2020. However, since they were postponed in view of the nationwide lockdown due to the COVID-19 pandemic the last date for submission of online applications for these competitive examinations has been extended to 20 May. Candidates can apply on the official website of APSCHE at apsche.org.