AP Mahila Commission demands arrest of TDP leader Ayyanna Patrudu for abusing woman official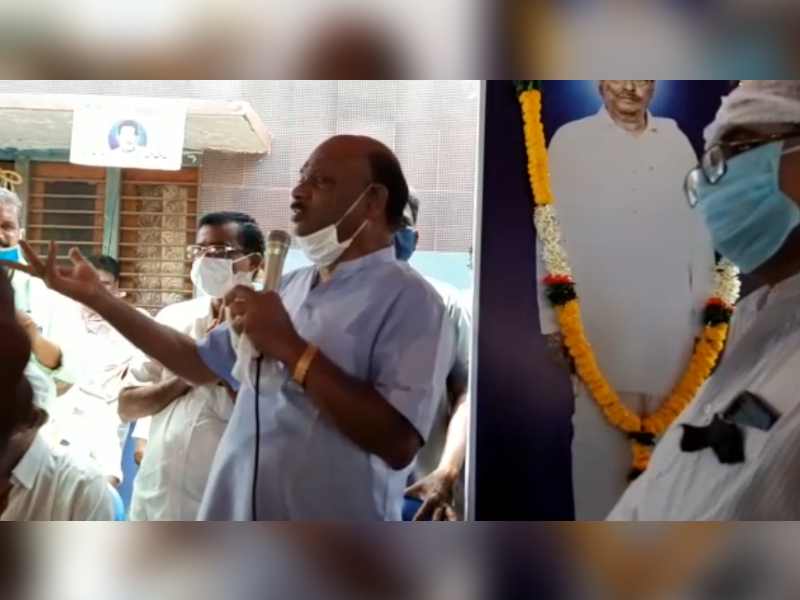 Vijayawada: Justifying the cases registered against former minister and TDP senior leader Ch. Ayyanna Patrudu for abusing a woman public servant, Andhra Pradesh Women's (Mahila) Commission chairperson Vasireddy Padma demanded the police to arrest Ayyanna Patrudu immediately.
It may be recalled that Narsipatnam police in Vizag district registered cases under various sections of the IPC against Ayyanna Patrudu. Police said cases under IPC sections 354-A (4), 500, 504, 505 (1) (b), 505 (2), 506 and 509 were filed against him on charges of hurling abuses against Narsipatnam municipal commissioner K. Krishna Veni at her office on June 15.
Ayyanna, along with his supporters, staged a dharna at the municipal office on June 15 in protest against removal of the portrait of his grandfather Latcha Patrudu, who had worked for the development of Narsipatnam.
Though officials clarified that Latcha Patraudu's portrait was removed as they were painting the building, the former minister continued the dharna and reportedly warned the commissioner of serious consequences if she failed to restore portrait in the municipal office.
Vasireddy Padma said that police registered cases against Ayyanna Patrudu under Nirbhaya Act also for abusing a woman officer with filthy language. The Mahila Commission wouldn't spare Ayyanna if he tries to escape from the case, she added.
She said that Ayyana Patrudu used highly unacceptable language while trying to warn the Narsipatnam Municipality Commissioner, K. Krishnaveni, over the removal of his grandfather's potrait. In a video that has taken the social media by storm, Ayyanna is seen saying , "If she doesn't keep up her word given to me, I will go to the extent of stripping her clothes if needed. We will do whatever we can to save ourselves."
Based on a complaint received from the victim, the local police booked the TDP leader under the Nirbhaya Act.
However, Padma wondered what was the need for a party like the TDP which has been in power multiple times and a leader like Nara Chandrababu Naidu who boasts of four decades in politics and claims to be the Messiah to protect women's rights feel the need to support a misogynistic leader like Ayyana Patrudu, despite video evidence.
Naidu even went to the extent of writing to the DGP of Andhra Pradesh Gowtham Sawang backing his party colleague. Speaking about the same, Padma questioned the leadership of the TDP which is brazenly backing it's leader.
During a media interaction, she added, "What is the use of young and educated leaders like Nara Lokesh coming into the system if it doesn't change the mindset of party seniors leaders, let alone the party as a whole. If leaders continue to abuse and attack women this way, when and how do we plan on changing things? For how long will women have to take this," she asked.