Hyderabad: According to the Union Ministry of Health and Family Welfare data, Andhra Pradesh has one of the highest numbers of COVID active cases among the 10 worst-hit states in the country.
Since July 1, 81.1 per cent cases have been reported in the state. In a span of 24 days 65,606 new cases were reported taking the total tally of Covid-19 cases to 80,858.
While Meghalaya and Karnataka are at first and second place with 84.35 and 61.48 per cent active cases respectively.
However, compared to other states, Andhra Pradesh has a high testing rate. The AP government is using VRDL, Truenat-NACO and Rapid Antigen-22,989 testing kit for the confirmation.
East Godavari, Vishakapatnam, Vijayanagaram continues to be the hotspot with 11,067 cases. The state stands at fifth in the position in the country with 80,858 cases.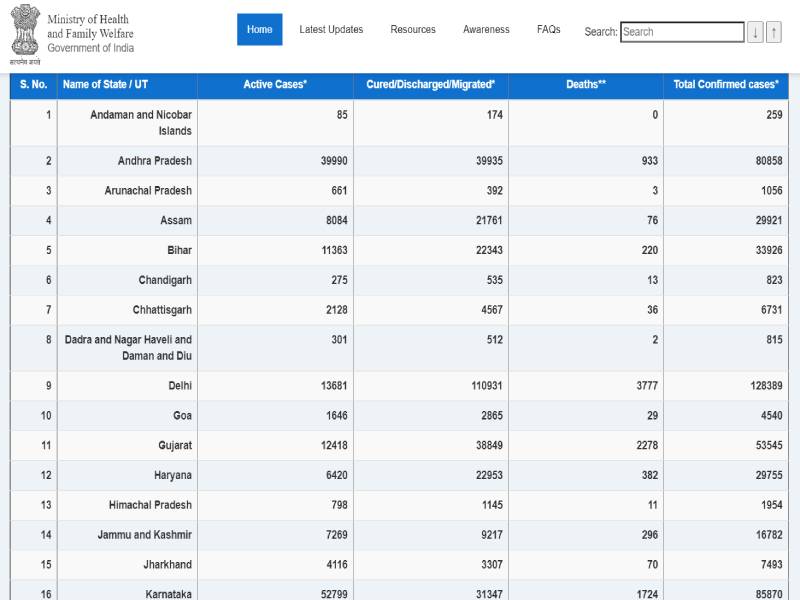 MoHFW data on July 25
On Friday, Andhra Pradesh Chief Minister Y.S Jagan Mohan Reddy announced that the state was allocating Rs 1,000 crore for COVID care. The amount will be spent in the next six months to develop medical infrastructure and treat Covid-19 patients in the state."In the next six months, medical staff, including doctors and paramedics, will be recruited in large numbers to provide quality treatment to Coronavirus patients," Jagan said.
Also, in bid to reduce Covid mortality rate the government has placed an order for anti viral drugs in large quantity and 15, 000 doses are expected by 25th July. " The state has placed an order with Hetero Pharma which will be supplying over 90,000 doses of Remdesivir anti viral drug by August third week. Among the Covid cases seven to eight percent will need critical care. The stock would be sufficient even if the number of positive cases touch two lakh mark. People in critical care need five to seven doses which cost Rs 35, 000.
Andhra Pradesh has 138 hospitals – 12 in Srikakulam district, seven in Vizianagaram, 22 in Visakhapatnam, six in East Godavari, nine in West Godavari, 13 in Krishna district, 11 in Guntur, and nine in Prakasam.
Nellore has seven hospitals, Chittoor 12 and Anantapur 16. There are six hospitals in Kadapa and seven in Kurnool. In total, the state has 72,711 beds in various COVID care centres.