Air Quality to hit 200-300 in Tamil Nadu, as Delhi's deadly air likely to move down South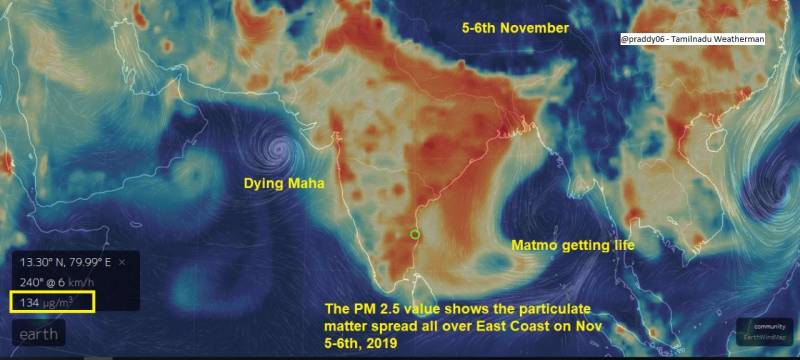 Highlights
Delhi air to move down South, parts of Telangana and Tamil Nadu affected
New Delhi: If you are in Chennai, then don't be surprised waking up to hazy skies in the coming week. Delhi's deadly air is likely to move down south in the second week of November, according to the current weather model.
An independent weather observer from Chennai, who goes by TamilNadu Weatherman (@praddy06) in Twitter, posted, "The hazy and polluted air which is choking Delhi and North India in the last one week will be pushed towards entire East Coast of India including Chennai and other parts of Tamil Nadu in the next week."
He goes on to explain, "Everyone saw Bangladesh cricketers with masks. Schools in Delhi are on leave until November 5. The Air Quality Index (PM 2.5) in Delhi was over 500, which is over five times the moderate level. Stubble burning of farmers in Haryana and Punjab is a major cause of air pollution every year. It rarely affects Tamil Nadu, as active northeast monsoons will not allow this pollution to reach the state.
Pollution levels in Chennai not to be as high as Delhi's
According to the amateur weather expert, Tamil Nadu and Chennai are seeing clear air, for now, owing to the non-polluted wind from the sea (east). "However, this time it coincides with the break-in Monsoon. So many parts of Tamil Nadu will see hazy skies next week, as the polluted air from the north will be pushed down, covering East India. The Air Quality Index of PM 2.5 in Tamil Nadu is expected to range from 200-300 in the next week."
Air quality ,Tamil Nadu would be next Delhi in near future ? #pollution #TNpollution #AirQuality pic.twitter.com/3iCi2QBQfg

— Jaya prasad (@gjayaprasath) November 4, 2019
However, citizens need not panic, as the pollution levels may not be as high as Delhi, says Chief Meteorologist Mahesh Palawat. "The air may not carry much pollution, as smog cannot travel that far. The present weather model shows that winds from Delhi will prevail over Madhya Pradesh and parts of Telangana, besides Tamil Nadu."