Hyderabad: Even as the state of Telangana crossed the 1,800 mark in the total number of COVID-19 cases reported in the country, 1,068 patients among the reported cases have been discharged from the hospitals till date, the state health officials said. The number of discharged COVID-19 patients account for around 60 percent of the total cases reported in the state, the state's health bulletin reported.
As of May 23, Telangana has 696 active cases of COVID-19, amounting to 38 percent of the total cases in the state. Meanwhile, with one death reported on Saturday, the total number of COVID-19 deaths in the state has reached 49.
Most number of migrants, foreign evacuees from Yadadri district
With several restrictions being lifted during the fourth COVID-19 lockdown, migrant labourers have been arriving in Telangana in large numbers. The same goes for foreign evacuees, with several citizens from foreign countries, landing in Hyderabad international airport and moving to their home-towns. Data provided by the state's health bulletin revealed that Yadadri-Bhuvanagiri district reported the most number of migrants and foreign evacuees, among all districts in the state. Out of the 119 migrants/foreign evacuees who reached the state, 35 of them belong to Yadadri. Yadadri is closely followed by Jagtial and Mancherial, both of which had a substantial number of migrant/foreign evacuee population, compared to the other districts.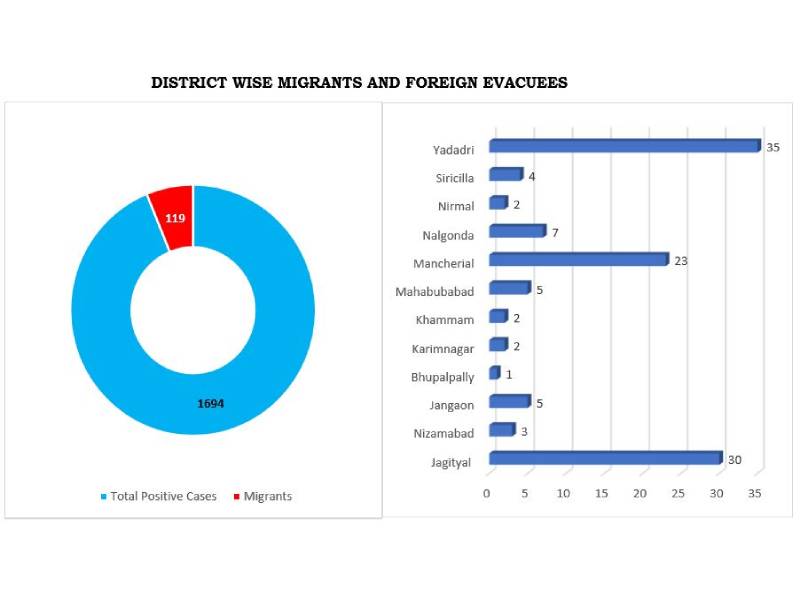 Meanwhile, out of the 52 new cases that were reported on Saturday, 33 new cases come from GHMC limits, while 19 of them were migrants/foreign evacuees. Four of the foreign evacuees had returned from Kuwait, while the rest of them were migrants from Maharashtra, the bulletin reported.