Hyderabad: Urbanization has led to the loss of water bodies in Hyderabad and a water crisis stares hard into the face of its population. Even after a small rain, water is seen flowing onto roads and into houses, but not into the lakes of the city. The bountiful rains that Hyderabad received in the past few days should be in its lakes and not on the roads, flooding the city.
A recent google earth satellite imagery shows how shocking the construction activity on the lake beds and catchment areas of Ambar Cheruvu, Yellamma Cheruvu and Yellammakunta lakes near Kukatpally Hyderabad is. The two images from the year 2003 and 2019, respectively, depicts how the lakes in the city died over the years due to illegal encroachments and insufficient catchment.
For instance, a 2003 google imagery shows Yellamma Cheruvu and Yellamma Kunta lakes with a channel connectivity in between. Here, one can see surplus water from Yellamma Kunta drain into the Yellamma Cheruvu through the channel. When Yellamma Kunta is not able to bear the water, it is supposed to travel through this channel into Yellamma Cheruvu.
Moving forward 16 years, the 2019 satellite imagery shows Yellamma Cheruvu and Yellamma Kunta with the channel encroached by blocks of buildings and with lake connectivity eroded.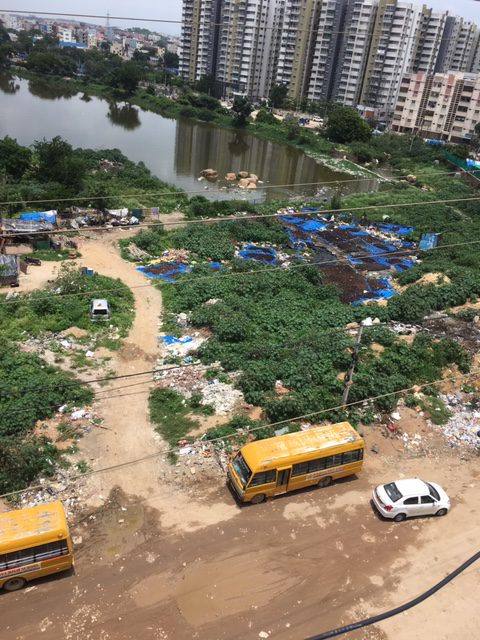 A few days back, a waterfall at Pragathi Nagar tank in Yellamma banda flooded the low-lying colonies and apartments from Kukatpally till Begumpet.
"When this water channel is encroached with illegal construction where will the rainwater go? It will only stagnate in the colonies in those areas. Lakes that were supposed to take care of the surplus flood water are obstructed, dumped and encroached. Hence, their water holding capacity has become very shallow," says Lubna Sarwath of Save Our Urban Lakes.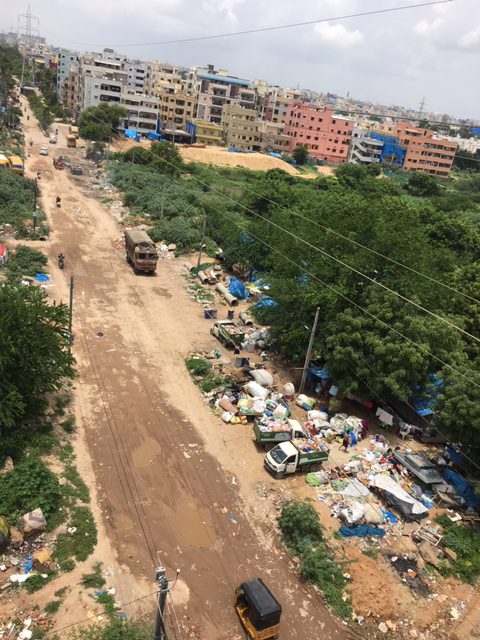 When lakes are restricted, both in terms of their area and holding capacity, their water holding capacity diminishes. Hence rainwater cannot enter lakes and results in the inundation of colonies and roads.
Pradeep Goud Macharla, a GIS & Remote Sensing enthusiast tweeted a 2003 and 2015 satellite imagery of both Ambar Cheruvu & Yellamma Kunta lakes calling it a "truly manmade disaster,"
2003 & 2015 satellite imagery of #Ambarcheruvu & #Yellammakunta near kukatpally #Hyderabad showing the construction activity on the lake beds and catchment areas. These are truly man made disasters(remember 2016 flooding in this area?)@HiHyderabad @PankajSethi00 @swachhhyd https://t.co/WVGlgUHANA pic.twitter.com/9e4culsrie

— Pradeep Goud Macharla 🌍 (@Macharlazz) September 24, 2019
"Everyone remembers the flood situation in Nizampet, Pragathi Nagar & surrounding areas of Kukatpally in Sept 2016? Water was not able to drain at all due to enormous urbanization, loss of flood plains & open lands which could have been natural buffers," Mr Pradeep said.
"These satellite imagery comparison between 2003 & 2015 shows how the residential constructions took place on lake catchment & lake beds and the end result of it is the massive flood situations even for small rains. These are truly man-made disasters and nothing else," he added.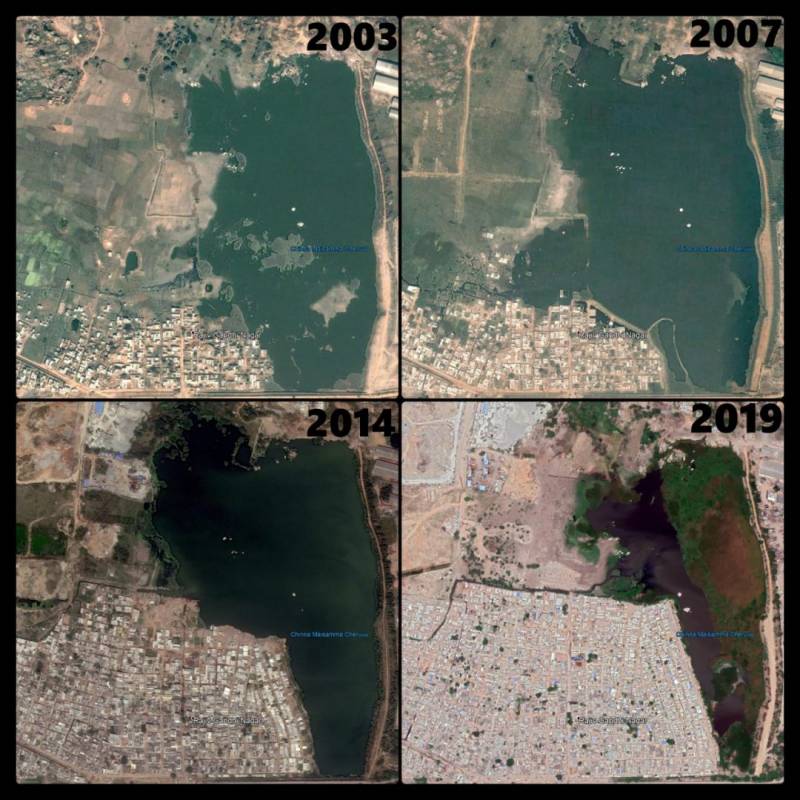 Chinnamaisamma Cheruvu, Borabanda
Massive encroachments can be seen over a period of 2 decades (Source: Pradeep Goud Macharla)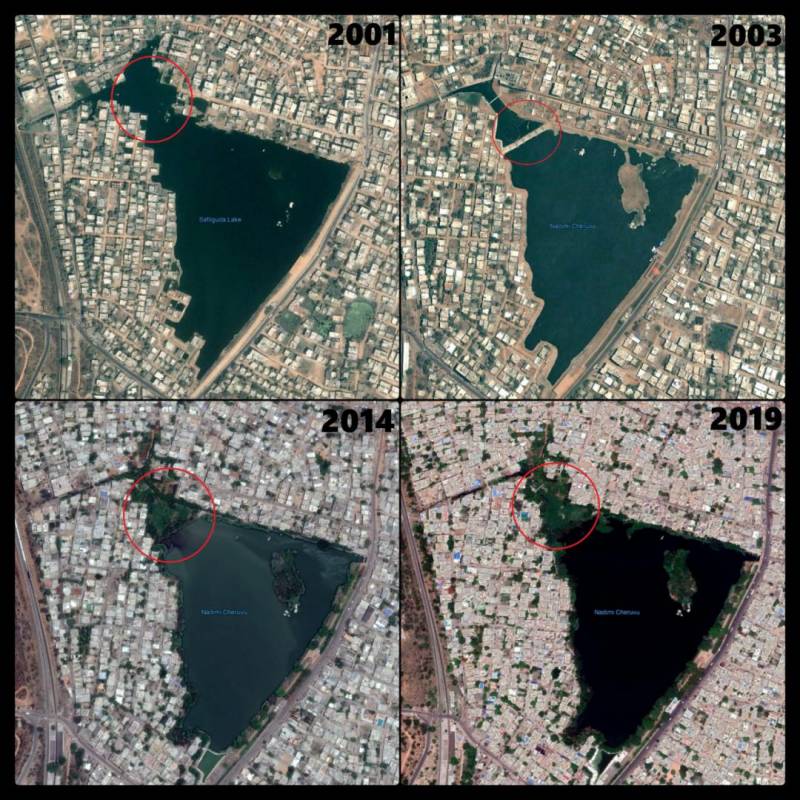 Safilguda, Secunderabad
In 2003, a mud blockage was built in the north west part of lake and has been converted to a park. Since then that part of lake was permanently lost. (Source: Pradeep Goud Macharla)
"In 2010, the then collector had advised the residents not to raise any buildings under the FTL area by which time some apartments were already constructed based on HUDA (Hyderabad Urban Development Authority) sanction. GHMC permitted construction of big colonies by private developers like Godavari at a distance of about 200 meters from the water body," said Balaswamy Gurram, an environmentalist.
"Instead of removing the encroachers, GHMC has been fooling the public telling them that they will expand the channel. Channels are to passage the water not to hold it. Citizens go through this ordeal every season, whereas the government of Telangana did not pull up any official till date for the past 5 years," said Ms Lubna
Gathering data on #Dead or #Encroached lakes/water bodies in #Hyderabad over the past 3.5 decades with help of GIS & remote sensing data

Lake#1: Peddacheruvu in Raviryal vanished entirely

Pic1:Water lost

Pic2:HMDA 2031 plan

Pic3: 2019 google map@arvindkumar_ias @HiHyderabad https://t.co/G8YVVETpAs pic.twitter.com/fNTnT3zZrD

— Pradeep Goud Macharla 🌍 (@Macharlazz) September 26, 2019
She adds, "Holding rainwater in lakes is important for the survival of the city as that is the only way the ground aquifers that have water in bores, wells are recharged through slow sustained seepage of water into the earth from the lake bed."