Hyderabad: Khairatabad Mahangapathi statue, popularly known as Bada Ganesh, will be immersed at Crane number 6 instead of crane number 4 at the Tankbund. GHMC officials and Telangana minister Talasani Srinivas Yadav are monitoring the arrangements for the Ganesh immersion at several locations along necklace road and Tankbund.
"We're making special arrangements for Khairatabad Ganesh statue. Devotees are worshipping over 55,000 Ganesh idols the twin cities. The government is taking measures for peaceful immersion of Ganesh idols. Bada Ganesh will be immersed by afternoon," said Mr Yadav.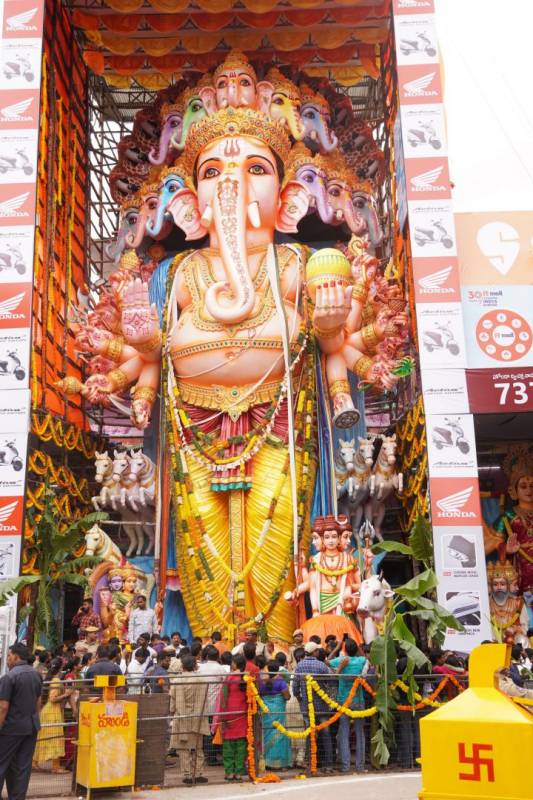 GHMC Mayor Bonthu Rammohan added that "already mud upto 17 feet in Hussainsagar lake removed for Maha Nimajjanam for Khairatabad Ganesh. GHMC engineers and staff are working day and night to facilitate thousands of Ganesh idols. The officials are making special efforts to ensure 25-feet draft in Hussainsagar for Khairatabad Ganesh. There's no such provision at Crane number 4. Hence, we have decided to shift the location to Crane number 6. The officials so far removed 700 metric tonnes of waste and mud along NTR Marg from Hussainsagar lake."
Hyd Police Commissioner inspects immersion arrangements
Hyderabad Police Commissioner Anjani Kumar and GHMC Commissioner Lokeshkumar have been working on making arrangements for Ganesh procession, which begins from Balapur to Hussainsagar. The 21-km route has been under stringent surveillance system. Along the route, Additionally 350 CC cameras have been arranged. The City Police will be deploying 21,000 officials to maintain law and order in the twin cities. Almost all the Ganesh idols have been geotagged for easy monitoring to maintain Law and Order situation.
32 lakes for Ganesh immersion
The GHMC officials identified and prepared 32 lakes for immersion of Ganesh idols in the twin cities and on the outskirts. Two cranes in every Police sub-division have been set up for loading huge Ganesh idols onto vehicles. the Transport Department will also make arrangement of vehicles for transporting huge idols to nearby lakes. However, the department will charge for this service.