Hyderabad: Thanks to Greater Hyderabad Municipal Corporation, Banjara Hills experienced an unexpected internet shutdown on December 22. As part of the central street lighting project, GHMC is relocating streetlights present on the sides of the road, to the centre of the dividers.
However, in the process, workers cut several lines, including electricity and internet cables, causing severe inconveniences. It cut affected private internet providers like ACT, Beam, Jio, and City Vision in the area. Besides, most of the public had not been informed in advance about the ongoing work.
Asking about informing the public about the maintenance, Musharraf Ali Faruqui, Zonal Commissioner for GHMC of Central Zone said that the information had been given to the public. "We normally inform all concerned departments since it is part of the Standard Operating Procedure (SOP). We do it in such a way that traffic and basic services are not disrupted, which is why the work was done on a Sunday."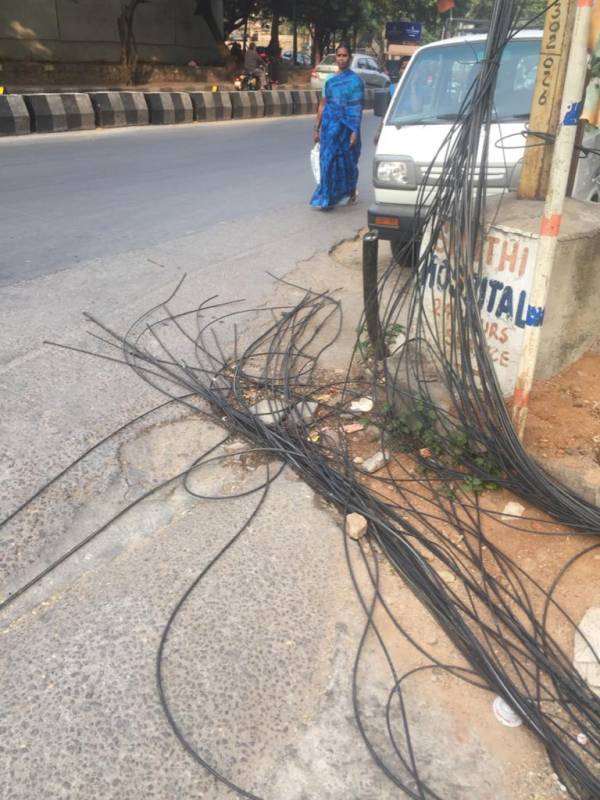 However, he also added that a majority of the optical fibre cables (OFCs) set up by private internet service providers (ISPs) in the city are unauthorised. Although ISPs are expected to gain authorisation from GHMC for using electric poles, not many follow this. "All these street light poles have unused wire loops. More than 50 per cent of wires are not live as well. However, no removal exercise has been done by any private ISPs. So, these unauthorised, unused, and unplanned cables are strewn over all these poles, and customers are bearing the brunt when GHMC takes up such exercises," noted the Zonal Commissioner.
According to the contractual workers, GHMC is planning to relocate 83 poles from City Centre to Cancer Hospital in Banjara Hills. It means that there could be maintenance issues in the coming days as well. Talking about maintenance work, S Venkata Ramanachary, Assistant Engineer with GHMC, Khairatabad zone, said, "We have informed the departments about this. There will be some minor inconveniences, but in the long run, it will help widen the roads and reduce cluttering of electric poles on the sides."