Chennai: Yesterday, a 23-year-old techie was run over by a tanker lorry after a banner erected by AIADMK fell on her. After the incident the Madras High Court today came down heavily on illegal flexes in the city.
Passing an observation on illegal hoardings, the court said, "We are tired of passing multiple orders against illegal flex boards."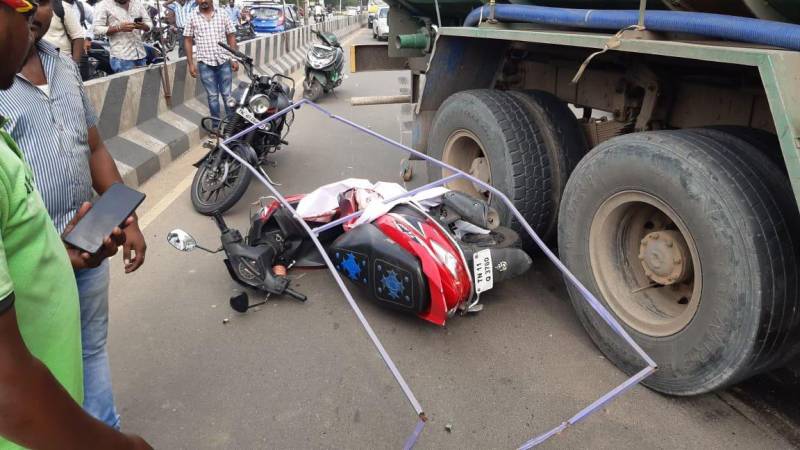 It came down heavily on the negligent attitude of government officials in implementing their earlier orders. The court expressed its dismay at the death of the youth and wondered how banners could be erected without any permission.
How the incident occurred?
Police sources say that Subashree Ravi, an M.tech graduate, was working in an IT company in Perungudi. Last evening she was passing through Radial Road along Thoraipakkam-Pallavaram in Pallikaranai. A hoarding, erected on the divider, fell on her and she lost her balance. Due to the impact, she fell in the middle of the road. Unfortunately, a tanker lorry coming from behind ran over her. She was rushed to a hospital, where she succumbed to her injuries. Subashree had recently written an exam to pursue her higher education in Canada. She suffered grievous injuries to her arms, shoulders and ribs from the impact of the accident which could have caused internal injuries. Police personnel of St Thomas Mount Traffic Investigation Wing sent her body for a postmortem to Chrompet Government Hospital.
Who is to blame?
The city police have registered cases against former AIADMK Councillor, Jayagopal and a printing unit in Kovialambakkam who erected the banners. Jayagopal, who is also Kancheepuram East's MGR Mandram Assistant Secretary, had put these banners up without permission to announce his son's wedding. Several Ministers including Deputy Chief Minister O Panneerselvam are said to be attending the function.
Banner culture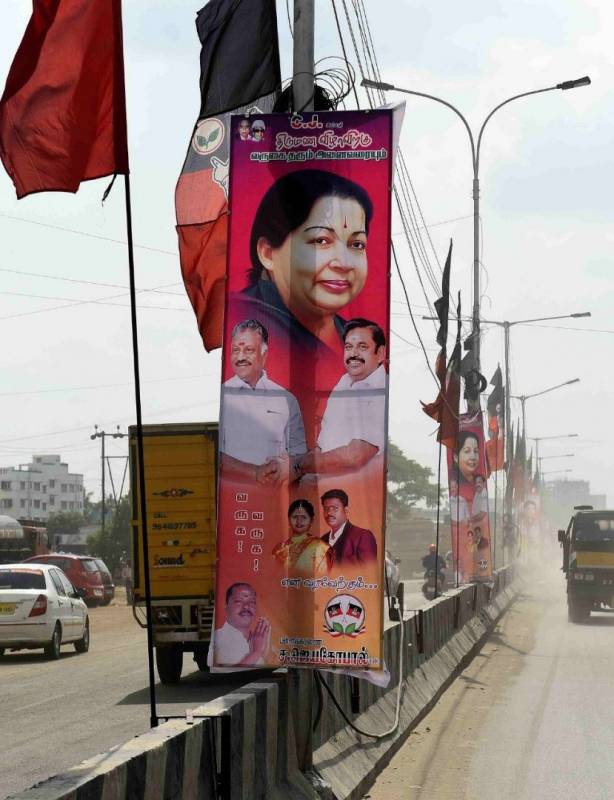 Banner culture is part of Tamil Nadu politics. It is not just a new trend but has been there for ages. Political parties, even for small scale events, would erect colourful hoardings and banners on significant roads. Though several cases were filed and social activists like Traffic Ramasamy have taken this issue up to High Court, the officials have turned a blind eye to these complaints. The official's negligence on this matter is a major reason for such mishaps.
Social media anger
The incident caused a furore on social media. People from various walks of lives tweeted against the incident. Many came down heavily on both DMK and AIADMK over the incident and wanted the politicians to give up this political culture.
Stalin condoles
DMK president, MK Stalin slammed the AIADMK government over the demise of the 23-year-old woman, Subashree. In a post on twitter, Stalin said, "Subashree has died due to the negligence of the government, inefficient police officers. The illegal banners have taken yet another life. My deepest condolences to her family. How many more lives will be lost to the power-hungry and anarchist rule?"