SRINAGAR: Under the sagging shelves of newly arrived sparkling chocolates, 38-year-old Sajad Khan is busy fidgeting with his cell phone. A number of rucksacks filled with PPEs are littered around his work station even as the salesmen attend to customers in the supermarket.
For banker-turned-entrepreneur, the supermarket doubles up as the liaison office for the burial of COVID victims. Khan heads a small group of 20 volunteers, who work undercover, to give a decent burial to the COVID victims in Kashmir.
Official figures reveal that 572 people have died due to COVID 19 in Jammu and Kashmir so far. Of whom 531 hail from Kashmir division and 41 from Jammu division. There are 30034 positive cases in Jammu and Kashmir. Of whom 6965 are active positive and 22497 have recovered.
"We might have buried 50 victims so far. It was a conscious decision to help out the people in distress. COVID has not only infected the patients but contaminated our minds as well. In some cases, close relatives were hesitant to give a decent burial to their loved ones," said Khan.
Welcome to Kashmir, where stigma is eating the vitals of society. Fear of infection has spurred COVID apartheid in the predominately religious society of Jammu and Kashmir. Most of the time, the dead have been left wanting for a decent burial or cremation because the kin fears contracting the infection. Such is the situation that religious leaders have been compelled to issue public appeals not to stigmatize the people with COVID.
Enter Khan and his buddies, the dead are getting a decent burial. For the 38-year-old, it has been a kind-of secret mission as he has not even told his family that he was volunteering for the burial of COVID patients. "My family does not know. I have told them that volunteers are doing it and I am not. Because they would have panicked," he said.
It started with the tragic experience of a lady who died of COVID. Community members clicked pictures but did not help in burial.
"I was just walking by the graveyard when I saw a gravedigger digging a grave at the far corner of the graveyard which struck me because it was against the precedent. Later I saw some relatives fleeing when the coffin arrived. It was left to some hospital employees to lower the coffin into the grave. It hurt my inner soul and I decided to do something," said Khan.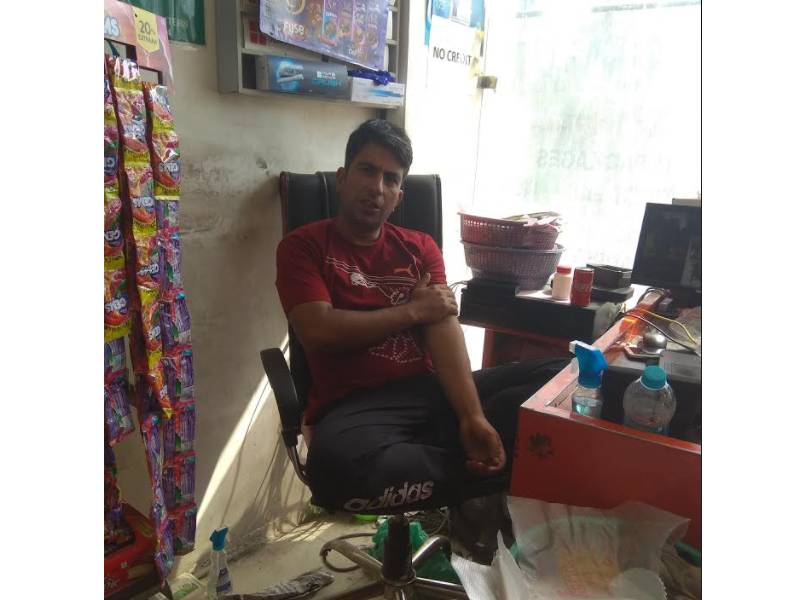 Sajad Khan
The next day, he called up his friend and discussed the whole issue. Both of them decided to rope in other friends with a promise that no one will tell his family about the work, they are doing.
"Our volunteers are from varied fields. Some are officers, some are businessmen and some are from the other professions. All of them are working clandestinely. Since we wear PPE kits, nobody recognizes us and that is helping us to conceal our identity from society and families," he said.
Khan has divided the team into sub-groups each having four volunteers. "I am running a page on Facebook. I put out the helpline numbers and there was no looking back. I used to receive SOS calls even during the night. So we devised the team into subgroups of four volunteers each. Whenever we receive calls, we send teams with full PPEs for help. After the burial, they used to torch PPE kits in the graveyard itself to avoid infection. Later the team would go for self-quarantine for 14 days to avoid any infection. Another team was would replace them," he said.
Father of two kids, Khan, a journalism post-graduate from Bangalore, left the cushy job at the bank to become an entrepreneur. He opened a small supermarket in posh Qamarwari area of Srinagar which became a runaway hit. The sole aim behind leaving the job was to become an employment generator to help the poor and needy.
"I bought a machine and material to stitch PPEs. I distribute PPE free. Each time we help in burial, we torch the PPE. Similarly, when the COVID struck, we distributed more than 1000 kits to doctors because the government was groping in dark," he said.
Since he operates from the supermarket, his sales have tumbled as people are hesitant to visit given the fear of COVID.
"My store was one among few which was allowed to home deliver goods. I used to home deliver essentials. But after I started volunteering, my sales have dropped by 80 percent. Plus my savings have been exhausted. We have to buy PPE kits, arrange vehicles, and organize funerals. This requires money and I fund it from my business. I have no regrets," he said.
Khan is not an isolated case. Less than five kilometers away, a Spartan house of a 45 year-old ambulance driver in Srinagar's Barbarshah area has become a center of attraction. Jameel Ahmad is winning hearts for his dedication and compassion during the pandemic.
Working as a driver in the J&K government health department, he has ferried more than 1500 COVID patients in his ambulance since March. Unmindful of infection and social stigma, he has been at the forefront in the fight against COVID.
"I remember the day when people used to run away whenever we crossed paths. Even my colleagues would run away whenever they see me in the department. It used to hurt me a lot. Then I used to pray to Almighty to give them wisdom because they do know what they are doing. Today is the time that the same colleagues are apologizing for the behavior," he said.
Father of two children, Jameel volunteered for ferrying patients when even doctors were hesitant to treat COVID patients. Such was the scare that patients had to protest in some hospitals after doctors refused to enter the wards.
"I have cried numerous times seeing how even children desert their older parents. I vividly remember an old couple who cried because the children were hesitant to help. I got a call late in the evening to bring COVID patients to the hospital. When I reached the spot, I saw a couple who might have been more than 60 years of age walking from an alley alone. I opened the door of my ambulance and asked them to board. The lady was feeling difficulty because she had a knee problem. I offered my hand for support. Since I was not wearing gloves, she said I can get infected. I said trust God nothing will happen. She broke down in the ambulance because her son was watching from a distance and did not help," said Jameel.
Realizing Jameel's work, Jammu, and Kashmir government went out of the way to honor him for his services. The government gave him a shawl, a citation, and a cash prize. Despite being hailed as a hero, Jameel continues to maintain his low profile and ferry patients and sometimes even help in the burial of victims.
"I used to go into self-quarantine after my duty hours. I told my wife and kids to stay away given my exposure to COVID. My wife wept and said we will live and die together. It melted my heart. Even I stopped sending my kids to my sister's home for tuition because she was pregnant and vulnerable. My sister was all fire, but I did not budge. I did not want to put my sister in risk," he said.
Jameel is not the lone ranger in the noble mission. A 60-year-old Kashmiri pandit veterinarian was so upset that he volunteered to work for COVID patients.
Working as a Joint Director in the Animal Husbandry Department, Kashmir, Dr. Ramesh Razdan was comfortably staying in a hotel-cum-official residence on the banks of Dal Lake when he came across posts about the problems being faced by the COVID patients.
Without losing a minute, he called up Commissioner Coronavirus Mitigation Efforts, Kashmir and volunteered to help in the fight against the COVID.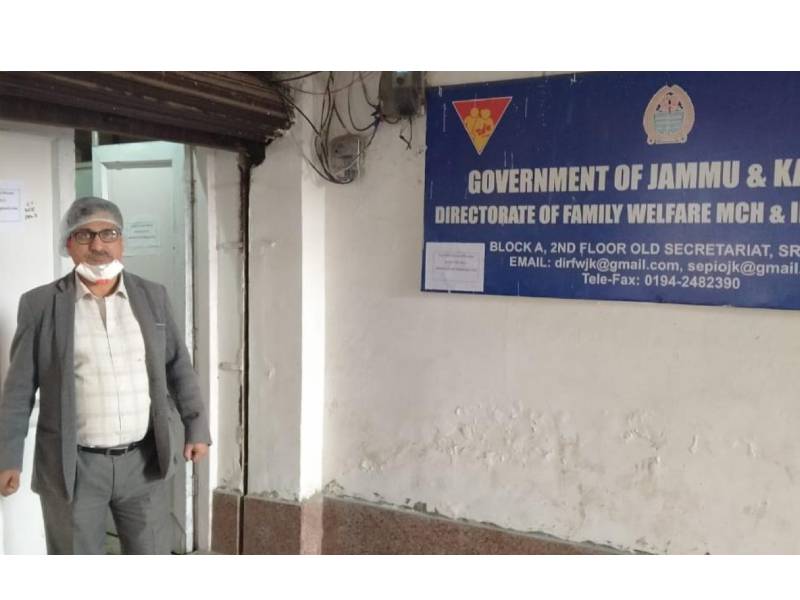 Dr Ramesh Razdan
Since he had experience in virology, he presented his case in such a manner that the government did not think twice before putting him in charge of the control room.
"I offer my services in COVID 19 mitigation efforts in Kashmir instead of sitting in a hotel at Dalgate. First, he sent a WhatsApp message. An hour later he was in my office to start the combat. He is Dr. Ramesh Razdan, a joint director of Animal Husbandry, Kashmir. Few people live for others," tweeted Aijaz Asad, Commissioner Coronavirus Mitigation Efforts, Kashmir
Given the fear, he did not tell his wife and family, who live in Jammu that he has volunteered for COVID mitigation efforts. Such is his dedication that he did not leave Kashmir even when his son, who is studying medicine in Bangalore, tested positive for COVID. Dr. Razdan continued to serve people in Kashmir rather than taking a flight to Banglore.
"I have worked in Indian Veterinary Research Institute, Bangalore in 1989. I have studied viruses and different strains. So I decided to use my expertise to help the government in fighting against the deadly disease," he said.
Impressed by his selfless work, the government is reluctant to relieve him despite retiring from services. "I have superannuated from services, but the government says you can't leave. They want me to retain for COVID duties," he said.
This story has been published as part of the Internews Information Saves Lives: Rapid Response Fund project to NewsMeter