Hyderabad: Carrying a placard inscribed with 'COVID negative' in bold, Nitin Bollam walks the brightly lit corridors of Hyderabad's Gandhi Hospital. Waving to the frontline workers, Nitin holds a small discharge slip close to his chest as he approaches the main exit. Bright sunshine piercing through the glasses welcomes Nitin as he takes a deep breath while stepping out of the exit.
"This is the best birthday gift I have ever received," said Nitin Bollam as tears of happiness well in his eyes.
For the past 40 days, the 21-year-old B. Tech student has been combating Covid-19 at the Hospital. "I will be discharged today. After so many days I can sleep on my bed," said the youngster.
What added zinc to his happiness was that his 46-year-old father too was tested negative. While the father and son packed their bags, the journey so far was full of pain and tribulations.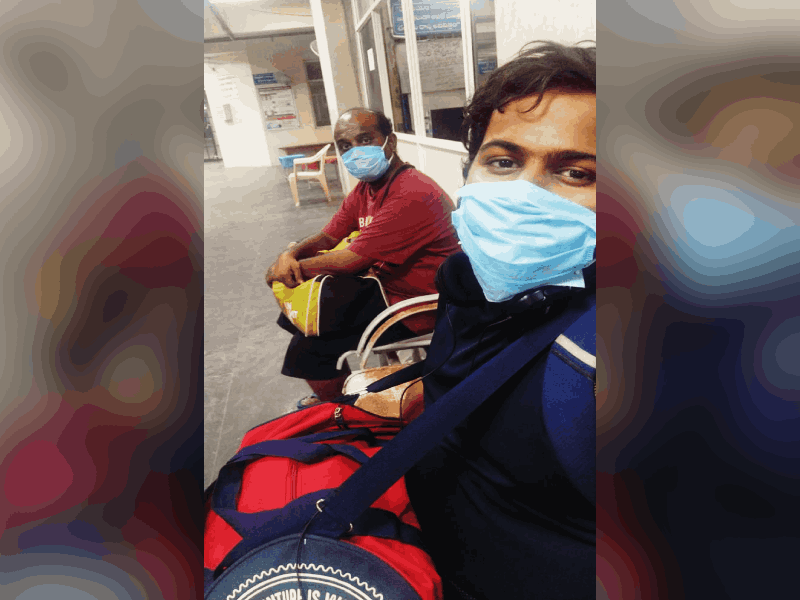 It all began when Nitin's father, who is a railway employee, showed pneumonia-like symptoms. The man used to commute to the Kazipet office by Telangana express. Doctors suspected that he might have caught the infection during one of his journeys.
"Dad was initially shifted to Yasodha hospital for pneumonia treatment. Later his COVID result came back positive. Though the hospital said they can treat COVID patients, my father's conditions deteriorated. Finally, they asked us to shift him to Gandhi," he said.
Nitin said the hospital charged Rs 3 33,000 for treating his father. While his mother was busy tending to his father, Nitin had to go from pillar to post to arrange the money.
I realised I'm Covid-19 positive after reaching the isolation ward
After his father tested positive, Nitin, his mother, and younger sister too gave their samples for testing.
"We were waiting in a separate room. That's when a ward attendant came. Standing next to the door she called my name. When I went out, she threw a packet of safety gear and asked me to wear it. I was very clueless until the moment I reached the isolation ward. I couldn't speak a word. Everything happened so suddenly. Thankfully my father was in the same ward," Nitin said.
However, the biggest solace was when Nitin's mother and sister tested negative. However, since the mother had slight symptoms, she was admitted to an observation ward for 13 days and his sister was asked to stay under home quarantine. The 19-year-old stayed all alone for 13 days.
The atmosphere was sickening at times
There were of course ups and downs all through 40 days at Gandhi, the nodal hospital for Coronavirus in Telangana. There were times when the young man had to fight for a clean bathroom or even a bar of soap.
"We used to feel like criminals at times. The ayas (helpers) and nurses sometimes yelled at us even when we asked for a piece of cotton wool after injection. There were days when no doctor came for rounds and we were getting nervous. March 14 was my last class at college. Since then I haven't stepped out of my home," he said.
Nitin said he was lodged in a 19 bedded ward where both men and women were admitted. "Most of them were middle-aged. Throughout the night, a dim light was kept on. The mood was depressing initially. Whenever my father suffered from hypertension I used to sit next to him and crack jokes. There was not a single day when my mother didn't cry over the phone. Every Sunday, my sister cooked food for us and brought it to the hospital, " said the B.Tech student.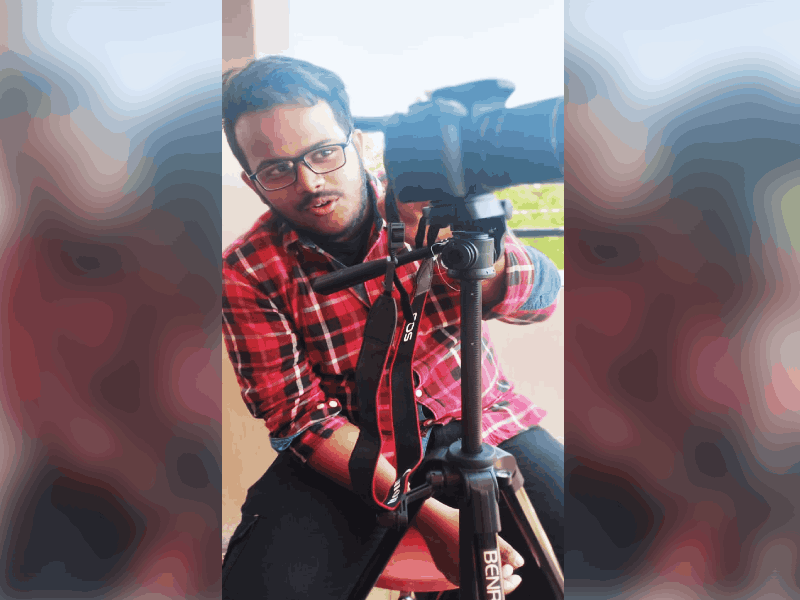 The window of hope and despair
Nitin was asymptomatic throughout the treatment though he was tested positive four times. However, the inmates in his ward were regularly discharged and new inmates were admitted.
"A doctor used to come with our test reports. He used to stand outside the window of our ward and call us by name. I was tested positive for eight times. Though my first test was positive, the next test was negative. However, when my swab was sent for the third round of the test it again came back positive. This kept repeating until the 7th and 8th test became negative," he said
Dr. Ramya, Dr. Raja Rao and Kavitha aunty
There are three kind souls from Gandhi hospital who made this young student's morning cheerful. He said he will always be indebted to them.
"Doctors used to come for routine checkups. They would ask whether we have any breathing issues. But, Dr. Ramya was the only doctor who used to come to the window and talk to us. So was Kavitha Aunty. She was a sanitation worker. Every morning she used to come and ask, 'are you guys not planning to leave?'" he said.
After getting discharged, this young man didn't forget to thank the kind-hearted Dr. Raja Rao, Superintendent of Gandhi Hospital. He sent a WhatsApp message to the doctor expressing gratitude.
"I admire the patience of Dr. Raja Rao. He gave us personal attention and listened to our problems. He responded as soon as possible whenever something was brought to his notice," he said.
Made new friends but lost Nancy
After the beginning of Ramzan, the hospital shifted all non-Muslims to a separate ward. That's when Nitin met patients of his age. There was another father-son duo in the new ward and Nitin befriended his son who was a graduate from Secunderabad. He also met a 24-year-old vegetable vendor who supposedly got infected from the Suryapet market.
"All of us got along very quickly. We had a great time gossiping about the situation. Now when I think about it, it was a fun-filled experience," he said.
However, back at home, his 11-year-old dog Nancy was battling for life.
"My dog had an injury in its back and none of us were there to take care of it. It got maggots and was bleeding. Whenever it went out to pee, people threw stones at it. And one of my neighbors even complained. Police asked my sister to abandon the dog or they would execute it. My sister had to finally abandon it at RR Ground and come back running so that it won't follow her. They didn't tell me this until the day before my discharge. Both I and my dad cried that night," he said.