Hyderabad: Legal Metrology Department in Medchal District booked a case against Big Spice Restaurant & Bar after receiving a complaint from a city resident. On October 10, 2019, Manthoju Praveen Kumar lodged a complaint to the Legal Metrology Department against the restaurant for cheating customers by charging more than Maximum Retail Price (MRP).
According to the bill provided by the complainant, the restaurant charged Rs 35 for a water bottle worth Rs 20. Besides, the restaurant charged Rs 40 for a 300 ML Thums Up worth Rs 25 and Rs 30 for a 300ML soda bottle worthy Rs 12.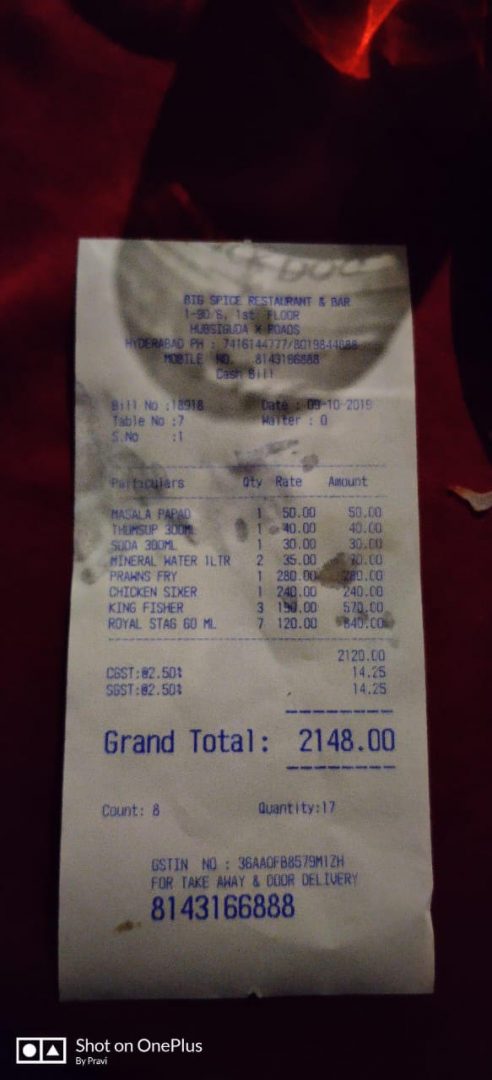 Based on the complaint, the Medchal Legal Metrology officer inspected the trading premises of Big Spice Restaurant and Bar in Habsiguda area on October 15, 2019. During the inspections, 60 ML and 30 ML peg measures were verified and found to be short by 5 ML and the management did not exhibit the verification certificate in the premises. Due to which the officer registered a case for contravention of Sec 30 & Sec 8/25 of the Legal Metrology Act.
32-year-Old Praveen Kumar, a resident of Borabanda, told NewsMeter that this is not the first time that he felt cheated. "I was charged more every time I go to a shop or restaurant. I knew it was wrong and used to argue with them, but it was of no use. Thanks to Sai Teja, I realised that I could take my complaints to someone, and thus I raised my issues.
As per Section 18 (2) of the Legal Metrology (packaged commodities) rules 2011, no retail dealer, manufacturer, packer, importer and wholesale dealer shall sell any product in the packed form at a price exceeding MRP. It is also a violation of the Consumer Goods Act of 2006.
Srikhande Umesh Kumar, a consumer protection activist, told NewsMeter that consumers should come forward and file cases against unfair trade practices followed by restaurants and bars. "By short delivering liquor, bars are saving a lot of expenses at the expense of the people's hard-earned money. Legal Metrology department should come forward and take necessary and voluntary actions instead of acting only upon complaints."