Hyderabad: The journey of model turned actress Swathi Deekshith ended in Bigg Boss house on Saturday. Swathi Deekhsith became the fourth contestant in the house to get eliminated.
Before her Surya Kiran, Karate Kalyani, and Devi Nagavalli were eliminated from the house. However, Swathi's elimination comes as a big shock to the inmates and the audiences.
Swathi Deekshith entered the Bigg Boss house on Friday last week. Amma Rajasekhar nominated Swathi Deekshith, saying that she joined them late and was not mingling up with others. Although Swathi Deekshith played her game well, her eviction is something that no one expected.
Swathi did not pick arguments with anyone in the house. At the same time, she had good moments with many others, especially Abhijeet. During the fourth week, a lot of screentime was given to Swathi and Abhijeet together.
Everyone thought that Swathi Deekshith would stay in the house for at least three weeks. Kumar Sai and Avinash, who came to the house as wild card contestants, are still surviving in the house. Although Bigg Boss show organizers claim that Swathi Deekshith got fewer votes, there are several doubts on the elimination process.
While airing the promo of Swathi's entry in the Bigg Boss house, Star MAA wrote, "Guest or New Entry" on their Twitter profile. The current scenario proves that Swathi entered the house only as a guest with her limited time stay in the house.
A lot of people on social media, too, expressed their thoughts about Swathi's eviction.
Haha. 1 week lo bags sardhesaru ga swathi Ki.. 😑 😂😜

— Ashok Raju (@ASHOKTHEKING) October 3, 2020
Monnane Aathi…Appude Jaathi 🤷‍♂️
OM Phatt SWAha 💥#BiggBossTelugu4 #BiggBoss4Telugu

— Dileep Kandula (@dileepkandula) October 3, 2020
Swathi's presence or absence in the house makes no difference to the show.

She came in between and is leaving too soon – like a pointless item song in a movie.#BiggBossTelugu4

— Kartik Dayanand (@KartikDayanand) October 3, 2020
I don't understand this moronic logic of @StarMaa and #BiggBossTelugu4 team…..

How the hell you are allowing wild card entries to get into first week nominations???

Its very very bad…#SwathiDeekshith I really feel sorry for her…..

— Vamc Krishna (@vamccrishnaa) October 3, 2020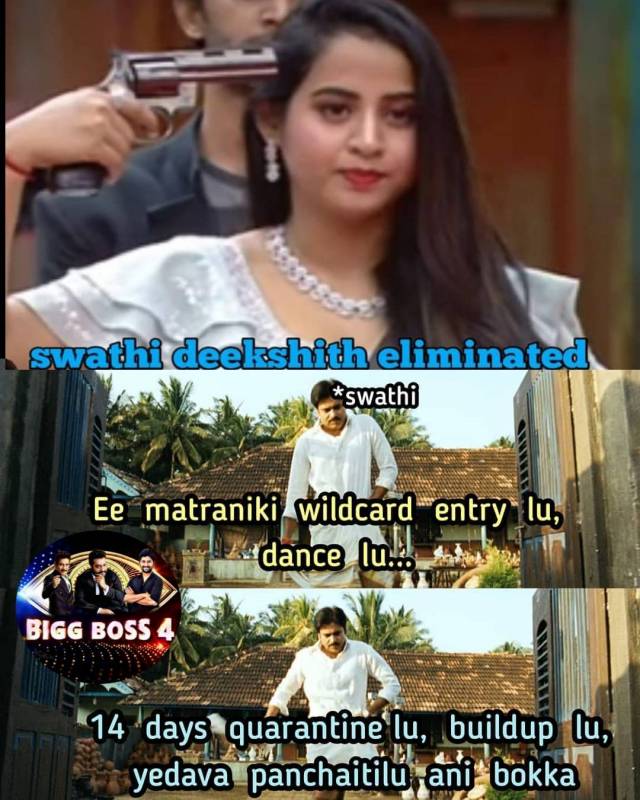 Swathi will join Nagarjuna on the stage to share her opinions on the housemates, on Sunday episode.