Hyderabad: Suspected Pakistani hackers targeted the website of the Delhi wing of the Bharatiya Janata Party, the third such cyber attack on it this year.
Cyber criminals on Saturday replaced the contents of a page with the message "27 Feb yad hai na?". The breach was carried out apparently by the team of Muhammad Bilal, a Pakistani hacker.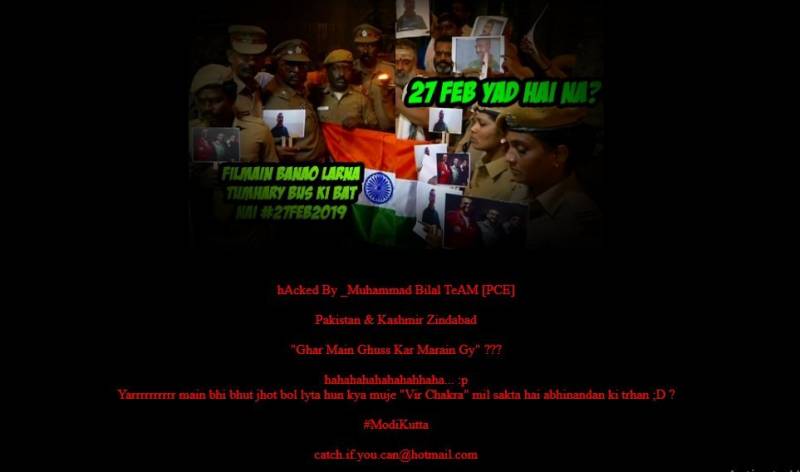 The digital intruders posted an image in the backdrop of the page, creating the impression of Indian police praying for the release of Wing Commander Abhinandan Varthaman. The reference was the capture of the Indian combat pilot after he shot down a Pakistani F-16 in an aerial dogfight. More messages accompanied: 'Pakistan and Kashmir Zindabad', 'Ghar main ghuss kar marun ga', 'hahaha yar main bhi bhut jhot bol iyta hun kya muje', 'vir chakra' mil sakta hain abhinandan ki trhan'.
🧨 Alert 🧨: The website of the @BJP4India, the Indian political party of @narendramodi, has been hacked… again… https://t.co/JQ8EBHFnbr pic.twitter.com/MBEqQbnTow

— Elliot Alderson (@fs0c131y) November 1, 2019
The hackers also mentioned an email id – [email protected] – on the website. Other than the particular page, the contents of the website were not affected.
The first cyberattack on the BJP Delhi website was reported in March when its homepage showed unflattering memes of Prime Minister Narendra Modi. In May, a hacker by the name of shadow_V1P3R edited the homepage to replace the word BJP with 'BEEF'. The tab 'About BJP' was changed to 'About BEEF', while 'BJP History' read 'BEEF History'.